How Top Actress Became Born-Again After Spiritual Attack From Lover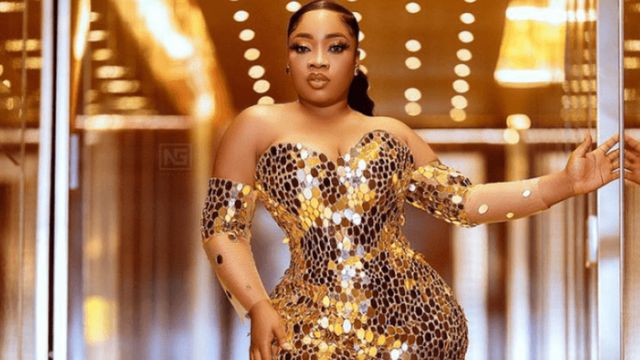 Sultry Ghanaian actress Adu Sarfowaa has opened a new dimension to the sudden born-again life change of top actress and socialite, Moesha Buduong who reportedly just survived a suicide scare.
The reported suicide attempt by the actress came after her dramatic life change and admission by the once raunchy Ghananian socialite that she had become a born-again Christian. Moesha Buduong has also confirmed it with a video post to her 2.7 million followers preaching the message of the gospel.
Adu Sarfowaa, however, disclosed that there was more to the repentance of Moesha Buduong as according to her, her colleague decided to give her life to God after a spiritual attack following a date with a top businessman.
She said that Buduong's decision to become a born-again Christian was necessitated by the ordeal she encountered which has caused her to leave her wayward, flamboyant and amoral lifestyle and turn to God.
According to the actress cum TV presenter, Moesha recently had an affair with a business tycoon who is not 'human'. By sleeping with the former big-time Slay Queen of Accra, he "exchanged her soul with death".
After her encounter with the man, the actress had since resorted seeking spiritual intervention in churches to tackle her predicament.
Adu Safowaah posted a photo of Moesha on Instagram and pleaded with Ghanaians to remember her fellow actress, Moesha Buduong in prayers because she is fighting silent battles no one knows about.
"She came across a Business tycoon that not human and had something to do with him…. ( kindly note that, No blame game here cux We all ain't virgins and ve our dirty skeletons). The Man exchanged her soul with Death but #JESUS and #mercy said NO. People close to MOESHA should be attentive, monitor her movement, stay close pls …. I prayed for her this dawn and I will do always."
Moshea Buduong has herself made a video on Instagram where the top actress while admitting that she was now born-again, called on those imitating her former life to have a rethink as she used the video to also evangelise to her 2.7 million followers to turn to God.
See:
Send Us A Press Statement Advertise With Us Contact Us