Senate Passes Controversial Electoral Bill That Whittles Down INEC Power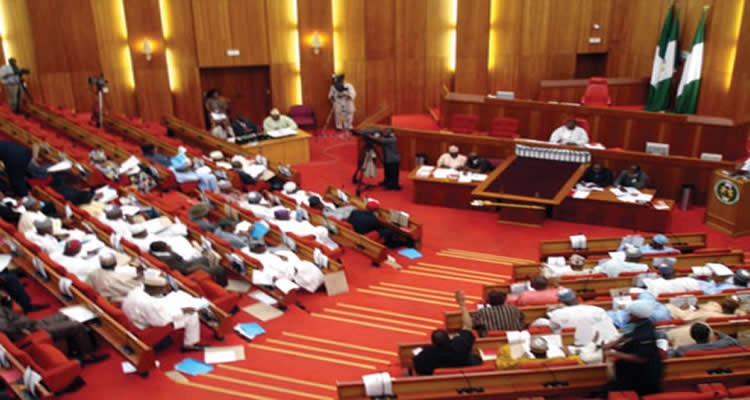 The senate has finally passed the electoral act amendment bill.
However, the passing of the bill was not without furore as many senators, especially those from the opposition and southern part of the country, vehemently opposed insertion of the clause that gives power to decide use of electronic transmission of results to Nigerian Communications Commission (NCC).
The bill was passed for third reading after Kabiru Gaya, chairman of the senate committee on the Independent National Electoral Commission (INEC), presented a report at plenary on Thursday.
The contentious issues in the legislation are the transmission of election results electronically and spending limits for candidates of political parties.
The legislation is seeking to repeal and re-enact the 2010 electoral act which has been under consideration for years.
The national assembly blocked the transmission of election results through electronic means in clause 50(2) of the bill.
The move by the national assembly drew backlash from any Nigerians who averred such action was part of effort to rig 2023 elections ahead of time.
After the outrage, the federal lawmakers kowtow to the demands of the public and restored the electronic transmission clause.
Senate Approves Buhari's $8.3bn, €490m Loans Request
Ruckus As Senate Passes Harmonised Petroleum Industry Bill
During the clause-by-clause consideration of the bill, Sabi Abdullahi, deputy senate whip, proposed that the Nigerian Communications Commission (NCC) must certify that national coverage is adequate and secure while the national assembly must approve before the Independent National Electoral Commission (INEC) can transmit election results.
But Albert Bassey, senator representing Akwa Ibom north-east, kicked against the idea and said the initial proposal made by the committee should be retained.
"The commission may transmit results of elections by electronic means where and when practicable," section 50(3) of the report reads.
After a rowdy session and using a "division" voting method, the senate eventually retained Abdullahi's amendment after a 52-28 vote.
The remaining 28 legislators were absent.