Nnamdi Kanu Now Cheerful In DSS Custody – Lawyer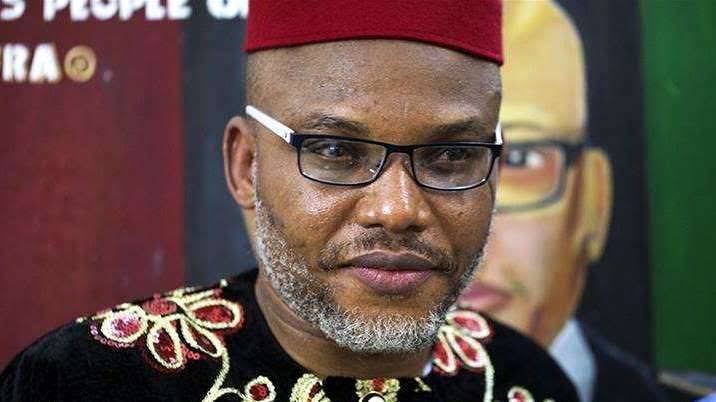 Days after the leader of the Indigenous People of Biafra, IPOB, Nnamdi Kanu, was reported to be sunken and desperate to leave the custody of the Department of State Services for a regular prison, there are indications that his condition has become better.
His lawyer, Aloy Ejimakor, revealed as much after four hours of interaction with him on Sunday.
In a post on Twitter he said that the IPOB leader, Nnamdi Kanu was now cheery as against earlier assertions of depression and maltreatment in the DSS custody.
 GreenWhiteGreen GWG reports that the Nnamdi Kanu had following his detention looked sunken while he was arraigned. IPOB officials had alleged that their leader was being persecuted in the custody of the DSS.
The DSS had rebuffed the claim just as security sources claimed that the urge by IPOB for Nnamdi Kanu to be transferred to prison custody was to facilitate a break-in by IPOB militants to free their leader.
Reacting on Sunday after his visit with the IPOB leader, his lawyer, Aloy Ejimakor via his Twitter handle said: "Today, I met with Onyendu at the DSS. We spent nearly 4 hours. My interaction with him was fulfilling.
"He's cheery & looks forward to overcoming this predicament sooner than later. Again, he stressed UNITY and tolerance on all sides. He has you all in his thoughts," he said in reporting the condition of Nnamdi Kanu.
The lawyer's claim on Nnamdi Kanu calling for unity and tolerance on all sides has, however, left some of his followers bewildered. While some interpreted the call by for unity among Nigerians, others saw it is a call for unity among his Biafran enthusiasts.
Nnamdi Kanu was repatriated to Nigeria allegedly from Kenya after he was arrested in that country during a visit. He had escaped from Nigeria while on bail where he was being tried.