Sunday Igboho Reportedly Arrested in Cotonou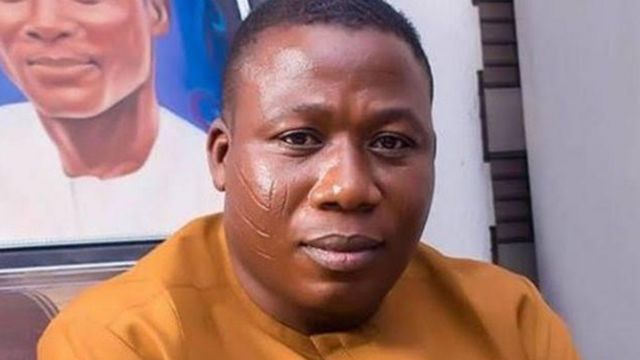 Self-acclaimed activist and Yoruba Nation agitator, Sunday Adeyemo, "aka Sunday Igboho", has reportedly been arrested in Cotonou, the capital city of Benin Republic.
According to reports, Sunday Igboho's arrest was made on Monday during his plan to flee Nigeria to Germany through Cotonou.
According to reports, a source privy to his departure from Nigeria said he had perfected plans to secretly escape from Nigeria through Cotonou and was heading to Germany.
He was, however, nabbed by security operatives in the neighbouring country.
Another source who is privy to the incident, said: "Sunday Igboho has been arrested in Cotonou. He was arrested about an hour ago."
"He was supposed to travel to Germany through Cotonou this night. He wanted to leave Africa through Cotonou. He was arrested by security operatives in Cotonou."
"They are planning to bring him back to Nigeria."
It would be recalled that the Department of State Services (DSS) had declared Igboho wanted after its operatives carried out a bloody midnight raid on his residence in the Soka area of Ibadan, the Oyo State capital.
Green White Green (GWG) had reported the Nigerian federal government included Sunday Igboho on its stop-list after getting intel he was trying to flee Nigeria.
This was noted in a letter by the Nigeria Immigration Services (NIS) titled "Stop-listing of person" addressed to the director-general of the DSS, the inspector-general of police, the director-general, National Intelligence Agency, and all zonal coordinators and control posts of the NIS.
"I am directed to request that you kindly place the above-named person on stop-list," the letter reads.
"Credible intelligence revealed that Adeyemo is making efforts to obtain a police extract and/or court affidavit to enable him acquire a new Nigerian passport, apparently to facilitate his escape out of the country.
"In addition, he should be arrested wherever and whenever sighted and referred to the Director-General, Department of State Services vide letter no: S.605/A/246 dated 05 July 2021."