Obi Cubana: Why My Mother's Funeral Is Talk Of The Town
Explains How He Made His First Million
By Wendy Joseph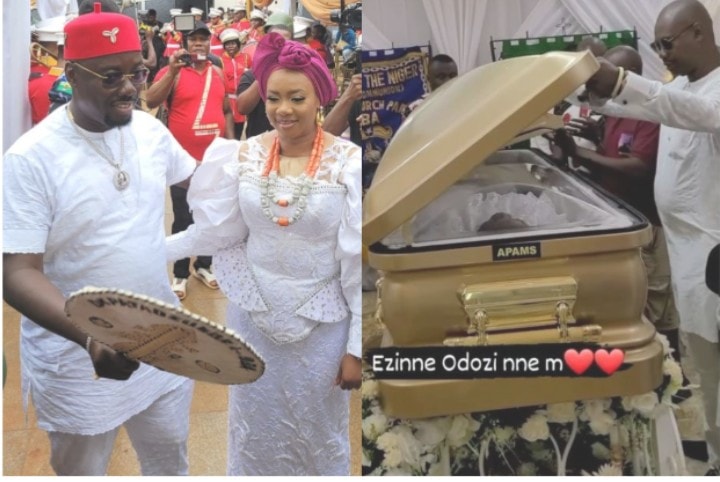 Entertainment entrepreneur, Obinna Iyiegbu, popularly known as Obi Cubana, has opened up on why he organized a talk of the town funeral for his deceased mother.
Speaking to BBC Pidgin, the billionaire businessman also explained how he made his first one million naira months after he was discharged from the National Youth Service Corps (NYSC) scheme and had no job.
Speaking on how his experience after leaving the NYSC scheme in 1998 following his graduation from the University of Nsukka, he said:
"After undergoing my compulsory National Youth Service Corps (NYSC) programme in Abuja, I started searching for a job all to no avail."
"That made me start some small jobs and from there I became a real estate agent. I usually get five percent of every task that is successfully executed. It was along the line that I and my colleagues met a man who asked us to help him furnish his house.
"We did it very well that he gave me N500,000 separately from the profit of N600,000 which I also made from the deal. That made it N1.1 million in total. It was after my NYSC that I made my first one million naira," he said.
On why his mother's burial was talk of the town and also defending his friends who sprayed loads of cash at the funeral, Obi Cubana said:
"How would I have arranged for people to come to the event and spray money. Is it to bathe with it? The money belongs to them, so it is their choice to spend it anyhow they like."
"All those that came for the burial are bigwigs across various industries, so they're basically there to show love for my family. Some of them were my friends and colleagues from school several years back.
"Therefore, the burial offered them the platform to come and show their love and support. That's what happened that day," he said.
Obi Cubana disclosed that he and his siblings had planned to have an elaborate 80th birthday for their mother to appreciate her but that she did not live up to 80 and hence the decision to turn the birthday into a talk of the town funeral.
"My mother's burial was like that because we had already promised her that whenever she clocks 80, we'll organise a unique carnival, which is the first of its kind in the world, to celebrate her."
"We joked about it and agreed. But thereafter, she died before she clocked 80. Due to that, we dissipated all our energy and initial plans to celebrate her 80th birthday into organising a befitting burial for her. That's why it is the talk of the town.
"This year (2021) makes it 15 years that our father passed away. After my father's death, we gave our mother all the love because she was always there for us. She was the one playing the role of a father and mother for us before her death.
"Whenever you visit her, she must pray for you before leaving. Even in your absence, she still prays for you, so when she died, it was as if they collected part of my energy."