Buhari's Support For Andy Uba Opens Way For Igbo President Of Nigeria – Okechukwu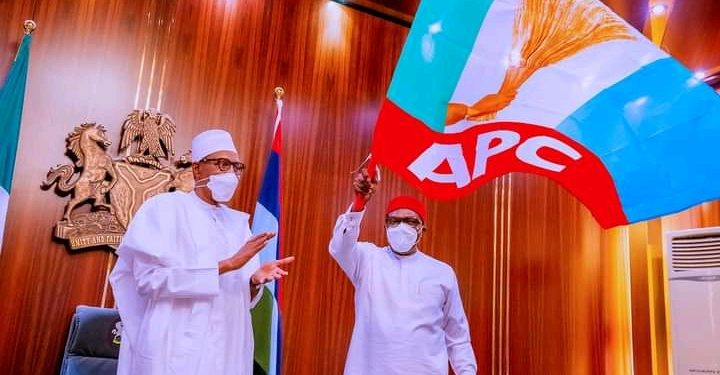 President Muhammadu Buhari's endorsement of Senator Andy Uba for the governorship of Anambra State could set the momentum for the Southeast to produce the next president of Nigeria, All Progressives Congress (APC) Governorship Campaign Council, Mr. Osita Okechukwu, has said.
Speaking to newsmen, Okechukwu said that Senator Uba's emergence as governor of Anambra State would turn the APC into the majority in the Southeast and position the zone to contend for the 2023 presidential ticket of the party, the Enugu born political chieftain said.
 GreenWhiteGreen GWG reports that President Buhari had received the APC gubernatorial flagbearer for the November 6 governorship election, Senator Uba, assuring him that he was optimistic about his success in the election.
Speaking to newsmen in Abuja, Thursday, Mr Okechukwu, who is also the Director General of Voice of Nigeria (VON), said the endorsement gesture, acceptance and support by the President is a signal to other good and correct political possibilities for the state, Southeast geopolitical zone and Ndigbo in general.
He stated: "With President Buhari's endorsement of Senator Andy Uba, it is now left to Anambra voters to endorse Uba, so as to facilitate Ndigbo's quest to produce Nigeria's President of Igbo extraction in 2023.
  "My humble appeal to my in-laws, Ndi Anambra, especially the electorate, is to kindly consider the strategic underpinnings of electing Distinguished Senator Andy Uba, now that President Buhari has graciously endorsed him."
"Moreover, we should not forget also, that the defection of state lawmakers from All Progressives Grand Alliance (APGA), and two Amazons – Distinguished Senators, Stella Oduah and Joy Emordi are icing of victory cake."
   "All these are positive signs that Senator Andy Uba's victory in the November 6, 2021 gubernatorial election will strengthen our collective bargain for Nigeria's president  of Igbo extraction in 2023. And coming barely three days after I urged APGA leaders to see the bigger picture, I am convinced that our people are prepared to correctly vote right."
Responding to insinuations that APC was focusing on the 2023 Presidential slot more than on the personal qualities of the Anambra State governorship candidate, Okechukwu remarked how pundits and eminent leaders of the party have decried the low electoral returns from the Southeast.
He contended that that low voter endorsement has been militating against the zoning of the Presidential slot to Southeast, stressing that "with Uba's election as governor in November, nobody can validity obstruct the ceding of the presidential ticket to Southeast geopolitical zone.
 "Senator Andy Uba's election will leave APC with three out of the five states making up the zone. This is my perspective and that zoning the Presidency to Southeast will also quell separatist agitations in the zone as well as put an end to musings of characters like Nnamdi Kalu and claims of marginalisation."