Why Ambode May Return To Lagos In 2023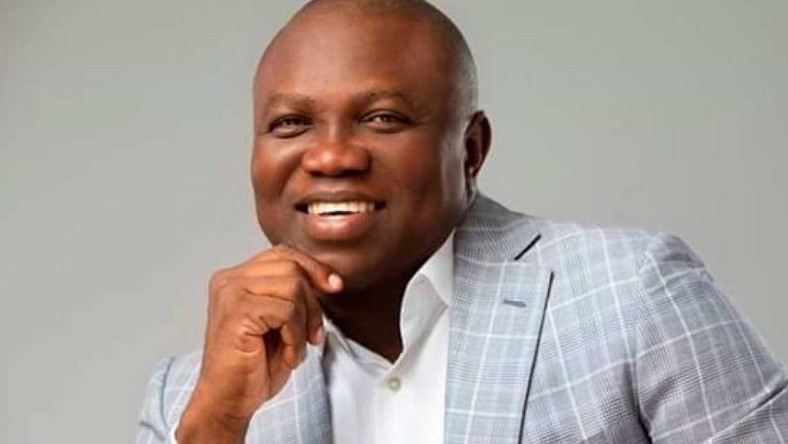 While Mr. Akinwunmi Ambode, the immediate past governor of Lagos State became tagged with the unsavoury reputation of being the first sitting governor of Lagos to lose the ticket for a second tenure, Nseobong Okon-Ekong argues that the conversely inherent show of good character, strength and courage on the part of Ambode positioned him as a clean and gentleman politician, with a likely chance for another bid for Lagos governorship
From today, Wednesday, September 8, 2021, it is 480 days to January 1, 2023. That is 15 months or 69 weeks away. All preparations that are needful for a successful national elections in 2023 are going on. As a result of the high stakes, the leading political parties are experiencing multiple crises.
In Lagos State, Governor Babajide Sanwo-Olu stands a good chance for re-election, having performed above average, in the estimation of many.
But political calculations, especially in Lagos and the privilege for re-election is not always predicated on good performance, otherwise, Mr. Akinwunmi Ambode, the immediate past governor of the state would be serving his second tenure now.
That is assuming Senator Bola Ahmed Tinubu, National Leader of the All Progressives Congress (APC) and a former governor of Lagos takes all the definitive political decisions in Lagos. Even from his sick bed in London, which has recently become a Mecca, the Asiwaju of Lagos and Jagaban of Borgu still gives the command, no matter how weak his voice may sound, his troop of loyalists must listen intently to hear when he tells them to jump.
Our collective memories are very much filled with the events leading to and during the 2019 governorship selection process for the APC in Lagos. Tinubu's body language did not favour a second term for Ambode, who was unofficially accused of stepping out of line with Tinubu's vision for Lagos, which is wrought in iron balsted in a furnace at his Bourdillon Road, Ikoyi home. As the lines are blurred between his plans for the future of Lagos and his personal interest that can bring, or that may be perceived to bring, direct or indirect benefits to him, Tinubu has reserved to himself the right to determine who is taking Lagos in the direction of the common good.
Ambode, it was said, refused to bribe Lagos legislators, turned down the proposition to concession the Fourth Mainland Bridge to a construction company linked to Tinubu, kept Alpha Beta, the tax company in check, revoked the concession contract for the redevelopment of Falomo Shopping Centre and banned Vehicle Inspection Officers from Lagos roads. He was also in the process of ridding Lagos of the menace of 'area boys' operating as members of the National Union of Road Transport Workers (NURTW).
In 2019, Ambode thought he had it figured out and was in the good books of Tinubu, the assumed omnipotent of Lagos politics. That was until the final push, when the immediate past Lagos governor was taught a bitter lesson in a skewed governorship primary, in which the odds were highly stacked against him. Hemmed in on all sides by turncoats and obstacles that his teaming army of supporters could not fight.
The contest for the Lagos APC governorship ticket was fierce. Ambode conceded defeat in an emotion ladden broadcast in October 2018.
"The interest of our beloved state must always supersede that of any person or group," Mr Ambode said. Though he criticised the primaries, alleging violence, electoral malpractices; and that he and his supporters were disenfranchised, he has remained in the APC. As he bid the state farewell on the eve of his exit as governor, Ambode looked back at his administration. "A few of our policies might have been unpopular but these were decisions taken with the best interest of our state in mind. With the benefit of hindsight, maybe we could have done some things differently but our intention was always clear, for the good of Lagos," Ambode said.
Lagosians can't forget that Ambode stamped his legacy everywhere. His administration constructed 365 km of single carriageways and 5.3km of bridges. He rehabilitated 342 roads. In 10 months, he built the Ajah flyover and constructed another flyover at Abule Egba in 13 months. He built the longest pedestrian bridge at Ojudu-Berger-98metres. His segregated bus terminals have become a signature of the new Lagos. Ambode established the Lagos Neighbourhood Security Corps and extended existing BRT lanes. All these were done to keep faith with his slogan, 'Ilosiwaju Eko' (the progress or Advancement of Lagos was paramount to him)
Unfortunately, Ambode became tagged with the unsavoury reputation as the first sitting governor of Lagos to lose the ticket for a second tenure. Conversely, this became a show of good character, strength and courage on the part of Ambode, which increased his reputation as a clean and gentleman politician.
Soon after, the Lagos State House of Assembly began a futile exercise to find a reason to blame Ambode for some wrongdoings with Greener Lagos Initiative and his bus procurement contract, and thus establish a reason to punish and disgrace him. The zeal for the probe went cold when Ambode allegedly threatened to open a can of worms that could implicate Tinubu and the Speaker of the Lagos State House of Assembly, Rt. Hon. Mudashiru Obasa.
Last May, the APC appointed Ambode, the deputy chairman of the South-west subcommittee of the Contact and Strategy Committee of the party. The 61-member Committee which includes many serving governors is positioned to strengthen and unite the party in the South-west region.
Given that Ambode is still very popular and had only served one term, will he make a bold attempt to return to Lagos House, Alausa in 2023? Already, the battle for who the APC will field in 2023 as governorship candidate has started. The incumbent, Governor Babajide Sanwo-Olu's chances are shrinking by the day, owing to the number of party stalwarts and top government officials interested in the job.
Should Sanwo-Olu be denied the opportunity of flying the party's ticket like his predecessor, Akinwunmi Ambode, some of the likely successors that are being touted include his deputy, Dr. Obafemi Hamzat, who has never hidden his ambition to govern Lagos, Sanwo-Olu's Chief of Staff, Mr. Tayo Ayinde, who is a former Chief Security Officer to Tinubu, Speaker of the House of Representatives, Hon. Femi Gbajabiamila and Senator Tokunbo Abiru.
While his name may not feature prominently in the discourse on who becomes the next governor of Lagos State, Ambode may be the joker in the pack with an ace up his sleeves.
So far, the ward and local government congresses of the APC in Lagos have shown clearly that the number of aggrieved members who are not ready to tow Tinubu's line are on the increase and getting bolder by the day, the most prominent being the Lagos4Lagos Movement led by Olajide Adeniran, better known as Jandor.
Hamzat may have relocated his primary constituency to Epe, which is Ambode's political turf, but with the spectacular transformation that Ambode gave to Epe during his first tenure, everyone in the town is solidly behind him.
Ambode himself has not publicly said that he is running, but his footsoldiers like Fouad Oki are making deft moves behind the scene, in preparation for the right time for their principal to male a grand entry.
It is in the interest of people like Oki to have Ambode as governor of Lagos again. In the days ahead, it will be clear if the former Lagos governor will enter the race or not. Many members of his cabinet, having tested power, are willing to risk everything to get into office, once more in 2023. The powers that be in the presidency appear to favour an Ambode return, which is why he was given a strategic assignment on behalf of the party among serving governors.
Having said all that, it is a dicey and delicate decision that can make or mar Ambode's future in politics. His prominence within the party in Lagos is not in doubt, the guess work hangs on whether Ambode will make that move.
Source: Reubenabati.com