Nigerians Blast Husband For Beating Man He Caught With His Wife In Hotel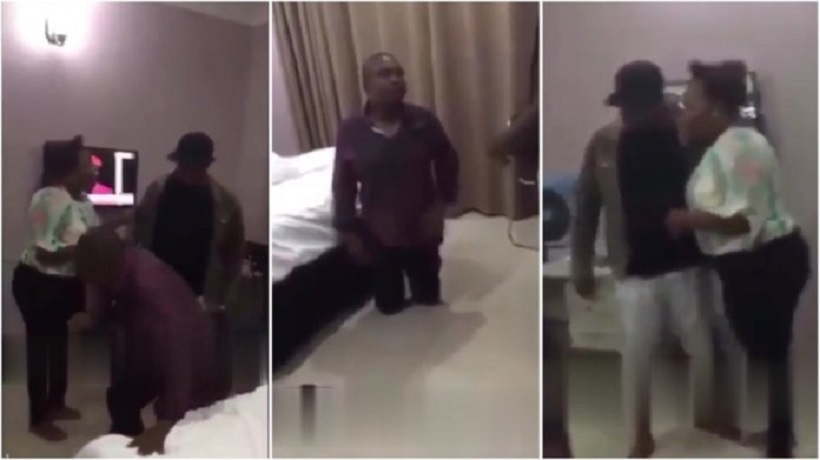 Some Nigerians have blasted a man in a viral social media video for beating a lover he caught with his wife in a hotel room.
It appears the husband had been suspecting the wife of cheating on him and kept a closer look at her movements.
Reports reveal that the yet-to-be-identified husband was tipped off by friends about the escapades of the wife, whom has reportedly been cheating on him for a long time.
From the video, the furious husband is heard threatening to kill the other guy but the wife pleaded with him to spare his life. The poor guy had to kneel and beg for mercy.
Green White Green (GWG) gathered some reactions to the video:
samaglah: The lady is crying to play victim. She was not raped. She took a decision and entered the room. The man might not have known that she's married saf
anthounma: The husband is just an idiot! Why beat the guy? Did he rape his wife or it was a willful and a consensual act between two adults? Is the lady below the age of consent? You divorce or keep her if you still want her but not to hit the guy as though your wife was forced into the act. She damn well made her choice to change her sexual diet a bit and that is her decision. Men are hunters and will always be hunters if the lady makes herself available to be preyed upon and chewed irrespective whether you are married or not so long as it is not against her will. Never attack or blame a man for chewing your lady.
gathascakesntreats: The act is bad but flogging d man is a no no. Let him deal with his wife.
mikeluk452014: The man should sue the hotel for invasion of his privacy.
king_loulau: Point of correction he has no right to do anything. She cheated on him yes , its bad yes but he has no right to record her or threaten her in anyway talkless of hitting her. Men do worse they even get caught in their matrimonial beds. If he doesn't want her anymore he can just walk away no need for all this childish unnecessary drama. Its getting old
d29_dub: It is because of this rubbish that south Korea legalised adultery …The woman may not have informed the man she is married and she wasn't raped and the husband has a legal right to divorce the wife simple. Assaulting the boyfriend is a criminal offence and they could be arrested.