Reactions As Piers Morgan Body Shames Madonna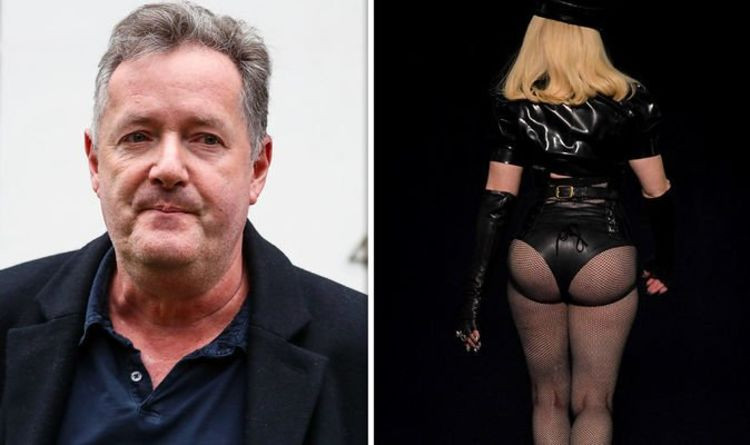 Strong reactions from around the world have followed what appeared to be the body-shaming of celebrated music icon, Madonna by prominent British-born journalist, Piers Morgan.
Piers Morgan, a former newspaper editor and CNN anchor had in a post on Monday seemingly mocked Madonna's near-naked attire at the MTV Video Music Awards, VMA.
He had posted a picture of Madonna in her dressing with a one-word comment: Cringe.
The post was followed by reactions from across the world with some supportive, others abusive.
GreenWhiteGreen GWG gathered the reactions:
Karen Morrice @KazMorrice
I'm a woman, I think it's cringe. I don't care if she's Madonna. She simply isn't rocking it anymore. If she was, then go for it. She's not.
Steven @Steven15764026
It's called fashion piers, you just don't happen to like it. Which of course is devastating for the world.
Michelle O'Hara @MichelleOH333
I'm torn between admiration and cringe…. she's not growing old gracefully but why does she need to? We become invisible after 45 apparently, but not her! Is she trying too hard? She's always been rebellious, why stop now…. I'll let you know when I've made my mind up.
Modiganduji @modiganduji
Tell her that no masons or security firm will protect all her bloodline from what's coming to her in the coming years…the devil is going to want GODS forgiveness and KHALSA PANTH is prepared not one will survive the wrath
Lynda @BadooBadeeDoo
She's a performer. Fans expect to see her do what she is famous for. She's older now yes but she's adored and loved for her body of work . She's giving fans what they want. She's a performer. This is the act she is famous for. Should all artistic expression be young + tasteful?
MalachiJaiEmet @MalachiJaiEmet
Quite and while it's not to my taste, I don't need to look. Live and let live generally works well in most situations.
Dick Grayson @Deeno36
Nope, still unsure what the hell Piers is on about. I see Madonna and he says "cringe"? Did she not return his phone call? Did she tell him she prefers weathermen? I'm not sure why he said "Cringe".
AdemKek @AdemK2K01
Or… surprise…. He finds her outfit and attitude cringe
Darryl Knight @darrylknight73
"Cringe" he said! Hmmmm. Let's just have a look at the people this gastrapod classes as friends
LoonyLobster @LoonyLobster
Agreed. She could actually do something good with her platform and encourage women to embrace their age and wrinkles… but no. She still thinks she's 20…
MalachiJaiEmet @MalachiJaiEmet
Yes but it's kind of nice to show that old people don't have to efface themselves. Ok she's extreme but it's a good thing in some ways. Maybe.
Alex. Avenarius
@FatersonSK
Same cringe as 40 years ago – where's the difference? Now Marilyn or Marlene (the real deal!) – that would be different (at any age, I guess). This is what you get when someone's desperately trying to be what they've never been & never will be. (Referring to image, not music.)
Ray Samuel Jr @Raynaissance
A bit of eccentricity is normal with creative people. This would have been outlandish for a librarian or an accountant, but she's an entertainer. No big deal. It's not unusual.
TinosToonArmyÉire @FunkToonEire
Its all about the money , and that type of money youl never see.