Nigeria Ethnic Groups Protest At United Nations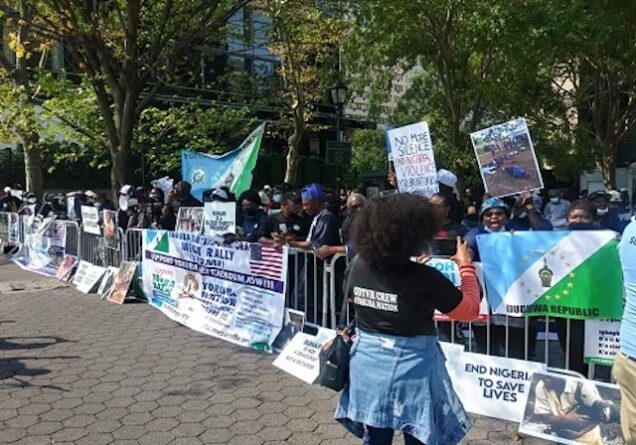 Yoruba Nation agitators, Indigenous People of Biafra (IPOB) and other separatist agitators from the South and the Middle Belt of Nigeria have stormed the United Nations for their one-million-man freedom protest march.
The protest is coming ahead of President Muhammadu Buhari's visit to New York to address the UN Assembly, one of only two remaining opportunities for the Nigerian leader before he leaves office.
However, ahead of Buhari's visit expected this weekend, ethnic nationality groups under the aegis of the Nigerian Indigenous Nationalities Alliance for Self-Determination (NINAS) have vowed to use the opportunity to make the case for a referendum to be organized by the United Nations.
They are also demanding an end to the genocide they say has been allowed to be perpetrated by suspected herdsmen in the name of grazing in Southern Nigeria.
 GreenWhiteGreen GWG reports that the protest at the United Nations is also directed by the Nigeria groups against the 1999 constitution.
The protests are holding from September 14 to 24 opposite the UN headquarters in New York, United States, coincides with the 76th UN General Assembly, which started on Tuesday.
The Chairman of the Nigerian Indigenous Nationalities Alliance for Self-Determination (NINAS), Prof. Banji Akintoye, and other leaders in a statement made available to The Nation stated that the protest was to draw the attention of world leaders to state-sponsored terrorism against the people of the Middle Belt and southern Nigeria.
The protest by the Nigeria groups at the United Nations comes amid increasing insecurity in the country.  GreenWhiteGreen GWG reports that before President Buhari's departure that
The Kaduna Police Command confirmed that Alhaji Hassan Atto, the Emir of Bungudu, Zamfara state was kidnapped along with an unspecified number of commuters, along the Kaduna – Abuja highway. A police office was also killed following the incident according to the police.
The Command's Public Relations Officer, ASP Mohammed Jalige, confirmed the incident in a statement issued on Tuesday, in Kaduna.
"Today, Sept 14, at about 3.10 pm, the Kaduna Police Command received a tragic report of an attack and kidnapping incident around Dutse village along the Kaduna-Abuja road."
Send Us A Press Statement Advertise With Us Contact Us