Fans Can't Stop Laughing As Chief Imo, Rita Edochie Hang Out (Video)
By Lifestyle Editor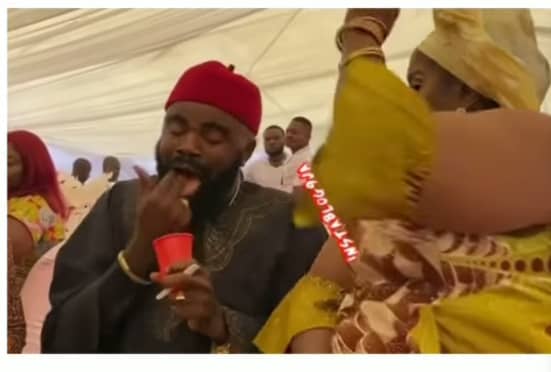 The occasion and venue remain a mystery, but Nigerians and fans of Nollywood the world over are nevertheless roiling in laughter after a hilarious video of popular comedian Longinus Chief Imo relishing a portion of ice cream seated beside Rita Edochie went viral.
In the video, apparently at a wedding ceremony, Chief Imo is seen recklessly relishing his cup of ice cream with a spoon and as the cream finishes he applies his fingers causing a bemused Rita Edochie to pat him for turning himself into an embarrassment.
Instablog Nja shared the hilarious clip of the moment actress, Rita Edochie, gently reminded her colleague, Longinus, that he was in public.
GreenWhiteGreen GWG gathered some reactions of the encounter between Chief Imo and Rita Edochie.
yuledochie
?????? Chief Imo is a case. I'm his biggest fan.
jenycliff
Trust me Chief Imo did that on purpose ????
p.j_dbarber
???? African mothers will never change ?
annabel.kusi
@p.j_dbarber , changing to where????.
david_ogbeidi
@p.j_dbarber they will tell you that okro no dey grow pass him owner. ?
vasttvng
Mumu for film still mumu for real life . No be juju be that ????
blemivivskincare
African mothers and resetting slaps are 5 & 6 ???
obianujuogungbemi
A GENTLE reminder lol
dj_khazy
sydneyiwundu
????? Abeg na acting …I don't want to believe otherwise
pheeberryofficial
He knew he was gonna get scolded, he looked at her briefly to weigh his punishment before he dipped his fingers in the cup??
yeenks_official
Sholo stupid ni!??
ponytail__store
???????Mumcy leave am because problem no de finish make hm enjoy life???
ogwogwuo
????? my mama go still beat me again when we reach house
pamela_jcee
Scripted ??
lordmacxi
This looks staged
l.tobiloba
Growing up I think we are all guilty of this in public / behind closed doors. ??
knoxaffordables
Scripted…but very funny ????
doctorr_bright
Rita be like "You can't disgrace me ???… how can you sit next to me and be behaving like hoodlum? ?