Exclusive: Atiku, Supporters, On Edge As PDP Committee Upturns 2023 Zoning Permutations
By Political Editor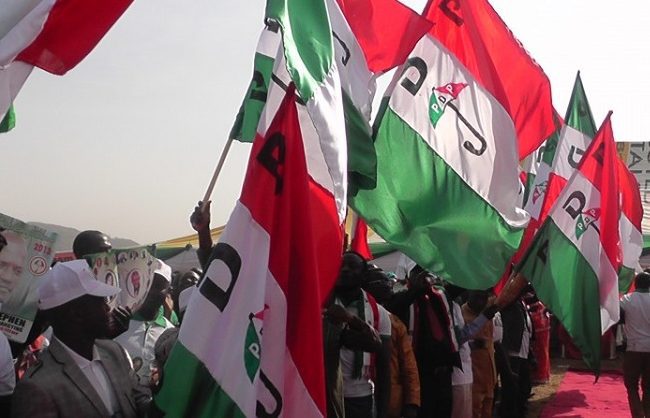 Supporters of the 2023 presidential aspiration of Atiku Abubakar were on edge on Thursday following overwhelming decision of Peoples Democratic Party, PDP stakeholders to abide by the party's zoning and rotation principles under which the office of national chairman would go to the North at the next convention.
The permutations, according to GreenWhiteGreen GWG findings, followed exhaustive deliberations by members of the Governor Ifeanyi Ugwuanyi led zoning committee presently meeting in Enugu.
The final output of the committee is to be taken on Thursday following caucus meetings through Wednesday night.
The committee members, it was gathered were influenced by provisions of Section 7 (3) (c) of the party's constitution which clearly stipulates that the PDP should be guided by the principle of zoning and rotation of party and public offices.
The committee it was learnt would recommend that all offices presently in the south would go to the North while all offices in the North would go to the south.
GreenWhiteGreen GWG reports that the decision is bound to upset previous permutations that had penciled the Southwest for the office of the national chairman. Atiku Abubakar, the party's leading presidential aspirant and his supporters had been hopeful that the projection of the Southwest for the office of national chairman to the Southwest would pave way for his 2023 presidential bid.
A source privy to the unfolding development in Enugu told GreenWhiteGreen GWG:
"If two dogs are playing and you put down one and the other is continually on top, it is no longer a play but a beating," the source said.
"Under the PDP constitution it is provided that offices in the North at the time of zoning should go to the South and those in the South should to the north, it doesn't make room for exceptions and that is why we know that the office of National Chairman will go to the North," the source said.
It was further gathered that the argument for the office of national chairman to go to the north was partly influenced by the fact that the suspended incumbent, Prince Uche Secondus, has become the longest serving national chairman of the party and that there was no basis to sustain the office in the South.
"We are not slaves in our party," a stakeholder told GreenWhiteGreen GWG on Thursday morning.
The permutation it was gathered has upturned the 2023 presidential contest with Atiku Abubakar and his supporters apparently discomfited by the resolution.
A source said that Southern chairmen and members of the Zoning Committee and those from the Middle Belt were also strongly backing the resolution on zoning the office of national chairman to the North.