How We Transformed Akwa Ibom From A Civil Servants' Stake – Gov Emmanuel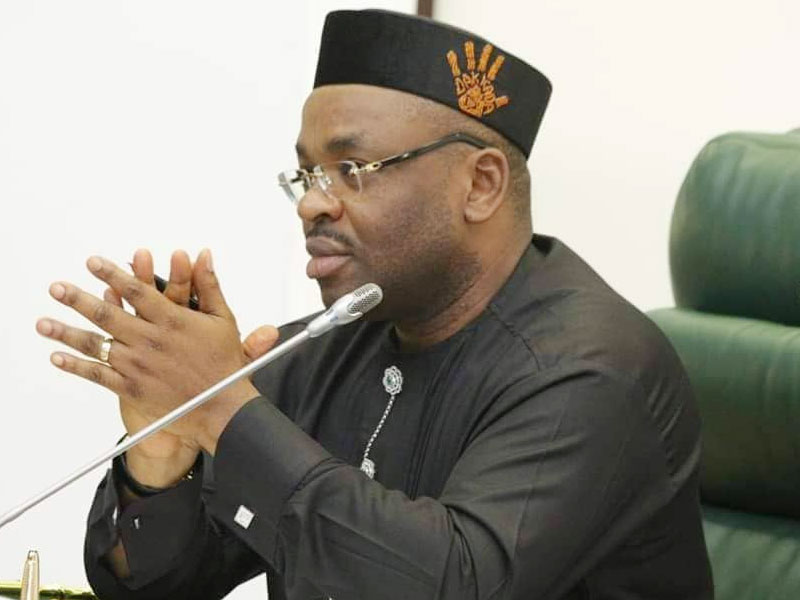 GOVERNOR Udom Emmanuel Thursday said that his administration has been able to transform the state from a civil service state into one of the country's leading destinations of Foreign Direct Investment, FDI.
He said that the administration was able to achieve that through providing a conducive environment for businesses to thrive and the access the government has provided using air, road and sea routes.
Governor Emmanuel spoke in a statewide broadcast on Thursday, on the eve of the 34th anniversary of the state's creation.
His words, "As we celebrate our 34th anniversary, I want to urge us all to once again wrap ourselves up in a garment of unity. It was an unknown writer who drove home this point when he said "when spiders unite, they can tie down a lion." We can achieve a lot when we are united.
"I recognise the fact that people will share and entertain different political interests, I recognize the fact that politics sometimes can lead decent people to veer off the path of nobility, but such should not motivate us to seek to destroy the best in us, just to satisfy our political paymasters.
"Let me repeat this line I have often used: My fellow Akwaibomites, politics will come and politics will go, but the Akwa Ibom spirit and blood that flows in us all will endure and flourish. Political foes you see today may be political allies tomorrow.
"The gulf of disunity that appears to be widening and this has compelled me to ask this pertinent and fundamental question: Are we as united and cohesive as our forefathers had envisioned?"
Governor Emmanuel who said the fact that his people had blessed him with the mandate to superintend over the affairs of the state in the past six years he remains eternally indebted, however, advised the people not to gamble away what the state has achieved in the past 34years, but to ensure their sustainability by supporting whoever God chooses to succeed him in 2023.
While quoting a former Malaysian Prime Minister, Najib Razak, Emmanuel stressed, "The mandate that I seek is about continuity and sustainability against disruption and stagnation; about moving forward versus regressing. We have to safeguard what we have already achieved. We cannot put to risk what we have; we cannot gamble away our future."..
"I put it to you my dear Akwaibomites that we need to protect these gains by ensuring that the man, whom God will choose as my successor, would be able to continue from these layers of growth and further expand our developmental strides and growth.
"As the politics of 2023 beckons, we must be conscious of the moving forward as contained in our State Anthem "forward ever backward never". This State will never go back on peace and security, this State will never go backward on securing the future for our children, and turning our youths into productive citizens.
"This State will never go backward in recognizing the fact that Jesus Christ is the centre of our governance, this State will never go backward in rewriting and changing the narratives of our development from being a purely civil service State it was 34 years ago to a fast industrializing one it has become in the past six years.
" The future of Akwa Ibom State which the forefathers prayed for and got, is assured and in God's own hands. It is safe, it is secure, and it is assured. We cannot gamble it away neither can we put it to risk. This is our collective charge, this is our collective expectation. In unity and in faith, this will come to pass"
Emmanuel listed the numerous positive strides of his administration records in the areas of industrialization, infrastructural consolidation, educat
"Because we have made this State peaceful and have provided infrastructure such as good roads, power, and the ease of traveling either by road or by air, we have been able to attract Foreign Direct Investments leading to the establishment of such economically viable and employment-generating industries.
" This is a huge leap for us as a State that was once described as a purely civil service State.
The ground-breaking ceremony of the OCP 1.4 billion petrochemical and ammonia plant in Ikot Abasi is expected to be performed soon. Similar one was earlier this year, performed in Eastern Obolo.
."Today, Ibom Air has become the reference point in Nigerian aviation industry because of the professionalism and service they are rendering to the Nation.
"Tomorrow, by the grace of God, the Vice President, Professor Yemi Osinbajo, SAN, (GCON) will help commission our 21 Storey Dakkada Tower. The Vice President also, will help flag- off our Dakkada Luxury Estate which again signposts our resolve to provide great estate for the numerous investors and other visitors.
"We would not have been able to attract all these industries, if we did not create the enabling environment for investors to come and invest and we should be all proud of our efforts and celebrate our ascendance as a fast industrializing State"
" I believe, given where we are today from where we were 34 years ago, our forefathers will certainly be proud of our strides, and we all should equally feel that way too.