Breaking: Ex-Wife, Chikwendu Slams N800m Suit Against Fani-Kayode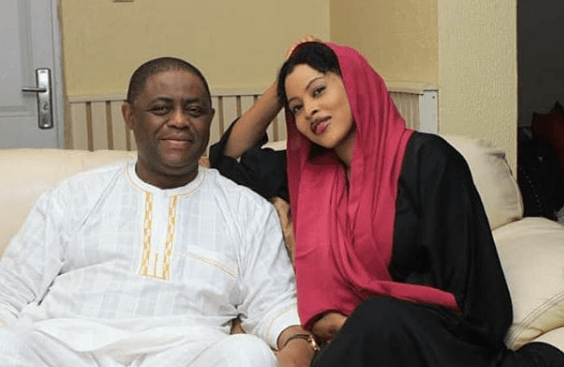 Controversies over Chief Femi Fani-Kayode on the political terrain were at the weekend sliding again into his matrimonial affairs following a suit instituted by his estranged wife, Precious Chikwendu, a.k.a Snow White over violations of her fundamental rights.
Chikwendu is demanding N800 million as general damages from Fani-Kayode who is sued along with the Inspector General of Police and his subordinates who according to the plaintiff have collaborated with her former husband to violate her rights, particularly in regards to her children who are all minors.
GreenWhiteGreen GWG reports that Fani-Kayode and Chikwuendu had an acrimonious separation with allegations of infidelity, brutalization among others traded by the two.
In the suit filed at the Federal High Court,  Abuja, on her behalf by Abdul-Aziz Jimoh she alleged among others that Fani-Kayode has used the IGP and his officers notably, the Deputy Inspector-General of Police, Force CID, Commissioner of Police, FCT, CSP James Idachaba (OC Legal CID), FCT Command who were all joined as respondents to curtail her liberty.
She has thus asked the court to stop the respondents from curtailing her liberty especially as they pertain to her children.
Chikwendu alleging a plot by the respondents to limit her is praying the court that she is not bound to grace summons by the respondents in respect of allegations of allegations of conspiracy and forgery while her suit is ongoing.
In an affidavit Chikwendu deposed to support her claims, she said:
"I was in a most tempestuous and violent relationship with the fifth respondent (Fani-Kayode), a qualified legal practitioner, a politician and a former minister of the Federal Republic of Nigeria.
"The fifth respondent and I have four children together and I am forcefully separated from our children, who are all minors.
"Consequent upon the unbridled violence perpetrated against me by the fifth respondent and the forceful separation from our children, I filed a suit in the High Court of the Federal Capital Territory, Abuja, with Suit No CV/372/2021.
"Rather than allow the contending matters placed before the FCT High Court to be determined by the honorable court, the fifth respondent has persisted in using the Police officers under the control of the first respondent (IGP) and supervised by the second respondent (Commissioner of Police FCT) incessantly to intimidate and harass me with a view to interfering in the adjudicatory powers of a competent court of justice."