MURIC Reacts As Outrage Over Flogging Of Islamic School Students Mounts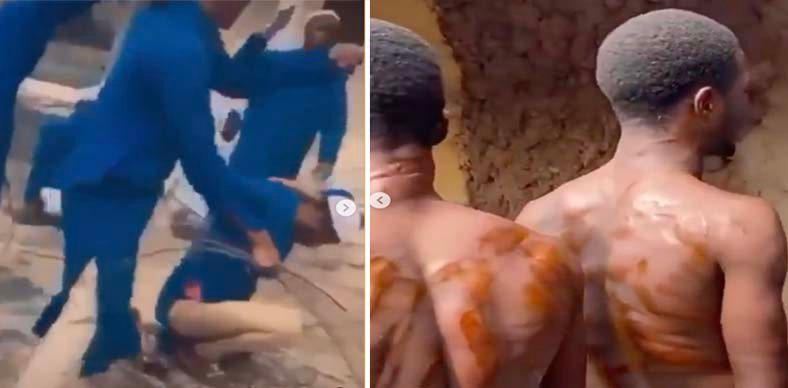 The Muslim Rights Concern (MURIC) has urged Muslims in Kwara State and the general public to desist from jumping to conclusions on the viral video in which students of an Arabic school were severely beaten.
The call from MURIC came as outrage over the incident continued to mount among concerned Nigerians.
The founder and director of MURIC, Professor Ishaq Akintola in a statement said:
"While we regard the punishment meted to the students as too harsh, we maintain that the action of the school authorities should not be judged in isolation. The fact that the parents requested the school to discipline their children must not be ignored.
Please watch:
"MURIC is also in possession of another video in which the students confessed that they engaged in shameful and unIslamic actions, namely, visiting a club, drinking alcohol, bathing themselves with alcohol, etc. These are horrible acts in which ordinary Muslims must not be involved.
Others who reacted said:
Dreal click @DrealClick
I am a Muslim, but this is pure maddens and stupidity it never a sin too go for celebrations, God should pls forgive Africa and make a lot wise, that child being flogged should never attend that school anymore Africa is just in a big mess
Ivy+ace @_Call_me_Ivy
If she doesn't change religion after this, na she know.
Semosneh @semosneh
Because of this, make she change religion Mumu instead of you to say they should punish the Alfa, you said make she change religion. Shey na religion tell the Alfa say make dem flog her
Harriet Ajayi @AjayiHarriet
Can't they leave and never return? Nah mahn.
Oluwatobi Ajayi @iamThobie
All in the name of religion, na wa ooo
Zeecrid @zeecrid
Africans perspective of the religion does not define the religion
Mrs Hills @twitVickyHills
Violence in peace. Ironic
Dominion @abiodun38803166
Omg what did I just watch? Can't they relocate from that city? Oh my heart bleeds. The heart of man. I am sure the guys flogging also attend parties codedly. Wow just wow
Chimgozirim @itszirim
This is more than barbaric. In this age and time we still treat people this way… Religion will eventually destroy us in this country. Let a rich man child's commit this act and watch their actions.
Chimgozirim @itszirim
Their religion is only for the poor people. Watching this video breaks my heart. wicked religion that's why you people end up raising criminals and boko haram people that gat zero value for human lives.
Cheezy @chyzzy007
Religion is Nigeria biggest problem. The school should be shut down for this inhuman act. Anyway what do I know!! I trust my self, I will graduate after such beating and start worshipping stone.
Emmy white @realEmmywhite
Religion of peace indeed this people are blind, their religion teach them violence
Scorpio King @lustronhomes
This is total rubbish. So attending a birthday party is a sin? They turn themselves to GOD that now judge. Religion will kill us in this country. It happens in both faith, just that the Christian faith are not so brutal like this.