Why Delta APC Is In Crisis – Stakeholders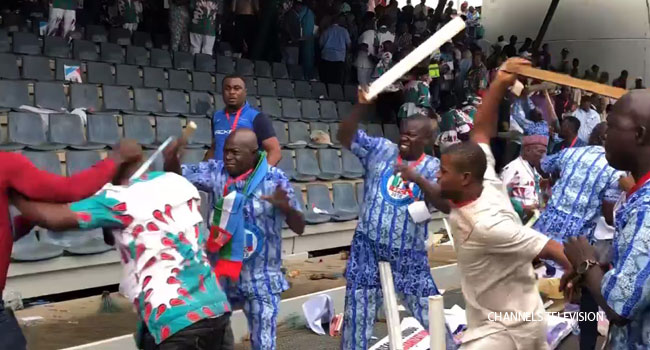 Some stakeholders in the All Progressives Congress, APC in Delta South have given reasons for their rejection of the recent congresses conducted in the area saying it was an attempt to foist the ideas of one man on them.
The stakeholders gave their objection in a communique following a meeting in Warri.
The meeting was attended by APC leaders from Warri North, Warri South, Warri South-West, Isoko North, Isoko South, Burutu, Patani and Bomadi Local Government Areas that make up the senatorial district.
The communique of the meeting held on 11th October 2021 was signed by Dr. Alex Ideh (Warri North), Rtd. Air Vice Marshal Terry Okorodudu (Warri South), Smart Edema (Warri South-West), Chief John Araka (Isoko North), Hon. Joel-Onowakpo Thomas (Isoko South), Dr Williams Saibakumo (Burutu), Akpeti Lawrence Ebiere (Patani), Chief Alphonsus Geph (Bomadi) among others stakeholders of the APC in Delta South.
While noting that the party could win all positions in the state if stakeholders were made to unite, the Delta South leaders in rejecting the congresses, said:
"That we reject in its entirety the purported Ward Congresses held in Delta State. The Ward Congresses being invalid and illegitimate cannot be the foundation for a purported L.G.A Congress or any other congresses. You can put something on nothing and expect it to stand. Therefore the purported Ward and L.G.A Congresses are all exercises in futility and cannot stand.
"That it is undemocratic for the CECPC to seek to foist the Exco list of one person on the entire state. We worked to build this party in Delta State on the integrity of Mr. President and the tenets of internal democracy.
"The CECPC is fully aware of its undemocratic actions to subvert the will of the people in the conduct of the congresses and perhaps with intentions to proceed in like manner have threatened party faithful not to conduct parallel congresses nor go to court to challenge any injustice meted out to party members. This can only be described as despotic autocracy and not Democracy.
"That we reject the purported unilateral zoning of party EXCO positions for the whole state by the suspended acting state party chairman to the exclusion of the party executives and leaders of the party in the state," the Delta APC Stakeholders further deposed.
"The current understanding in Delta State is that the next Governor should come from Delta Central Senatorial area, consequently, the next state party chairman can only come from Delta South or Delta North Senatorial area.
"We use this medium to call on the CECPC and President Mohammadu Buhari(GCFR) as the leader of the party to save the Delta State APC by canceling the ward congresses of 31st July 2021 and re-conduct a Ward Congress in Delta State with the duly constituted local organizing committees for the 270 wards with the input of all critical stakeholders to have an all-inclusive congress in Delta State."