LAPO Founder, Ehigiamusoe Unveils Credit Skills That Stabilised Bank In New Book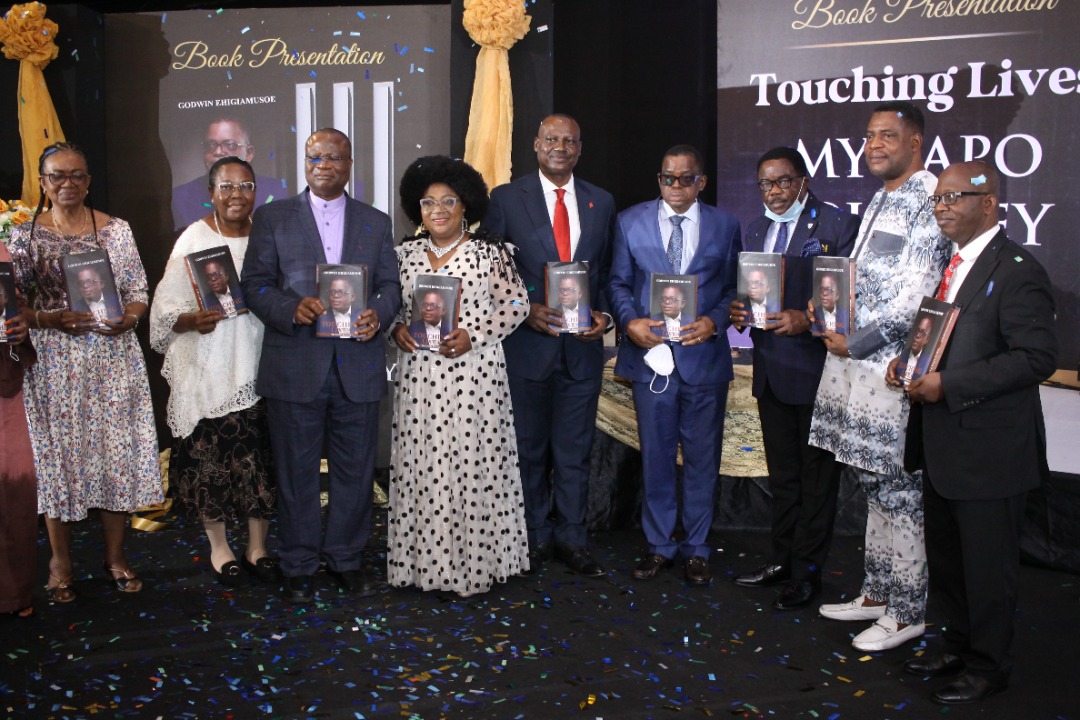 Dr Godwin Ehigiamusoe, founder of LAPO, Nigeria's leading microfinance bank has opened up on how the institution became a sterling example in credit management through training and reshaping the focus of its credit officers.
Ehigiamusoe in his book, "Touching Lives: My LAPO Journey" said the bank had to turn its focus from the customers to bank staff and the reorganization of its credit operation by
The book was recently unveiled at a ceremony in Lagos at a ceremony graced by some of the country's leading lights in the professions.
Among them were Mrs Ngozi Ehigiamusoe, wife of the author, Mrs Osaretin Demuren, Chairman, Guarantee Trust Bank Plc; Dr Osaren Emokpae, chairman of LAPO Group and his wife, Mrs. Imose Osar-Emokpae; and Mr. Tony Elumelu who was the chief launcher.
Also present were Dr Emeka Osuji, Pan Atlantic University, Lagos, Apostle Angus Ogboi, Christ Chosen Church of God, Lekki, Lagos, Mr Joshua James Etopidiok, Former Director, Special Insured Institutions Department (CIID) NDIC among others.
Giving vent on how LAPO survived its initial credit challenges, Dr. Ehigiamusoe said:
"One reason why we survived was because of our capacity to deal with repayment delinquency, a deadly virus of early lending institution. Like other microfinance NGOs of the period, LAPO was in a miserable state with poor portfolio quality, weak financial performance, and low staff morale."
"We struggled with delinquency and threw incentives at loan officers to improve loan repayment, but there were no significant results.
"The oldest branch in Ogwashi- Uku was a mess, and we ended up closing the branch in Ehor and later merged it with the Ekpoma branch. Like most poorly performing lending institutions, we blamed the borrowers. "Benin women do not like to repay loans," many of the loan officers and branch managers would bemoan.
"Staff morale was at its lowest ebb. I needed to act quickly. Fortuitously, ASA, a Bangladeshi microfinance institution, was acting as the International Technical Service Provider to UNDP's microfinance support project with LAPO as a participant," Ehigiamusoe wrote of how LAPO credit addressed the issue.
"The first step was to give adequate re- orientation on managing viable microfinance institutions as well as on loan portfolio management. I used the analogy of a "mirror of blame."
"I insisted that we turn the mirror of blame on ourselves. There were many institutional and behavioural flaws we needed to address. For instance, essential credit administration functions were highly centralised at the head office. Approval for all loans was given only by the head of operations.
"The result was that field credit staff were alienated from the entire process and therefore demonstrated minimal loan recovery commitment," Ehigiamusoe wrote of how LAPO turned around its credit challenges.