Is Edo PDP Crisis Plot For A Governor's VeePee Bid?
By Kassim Afegbua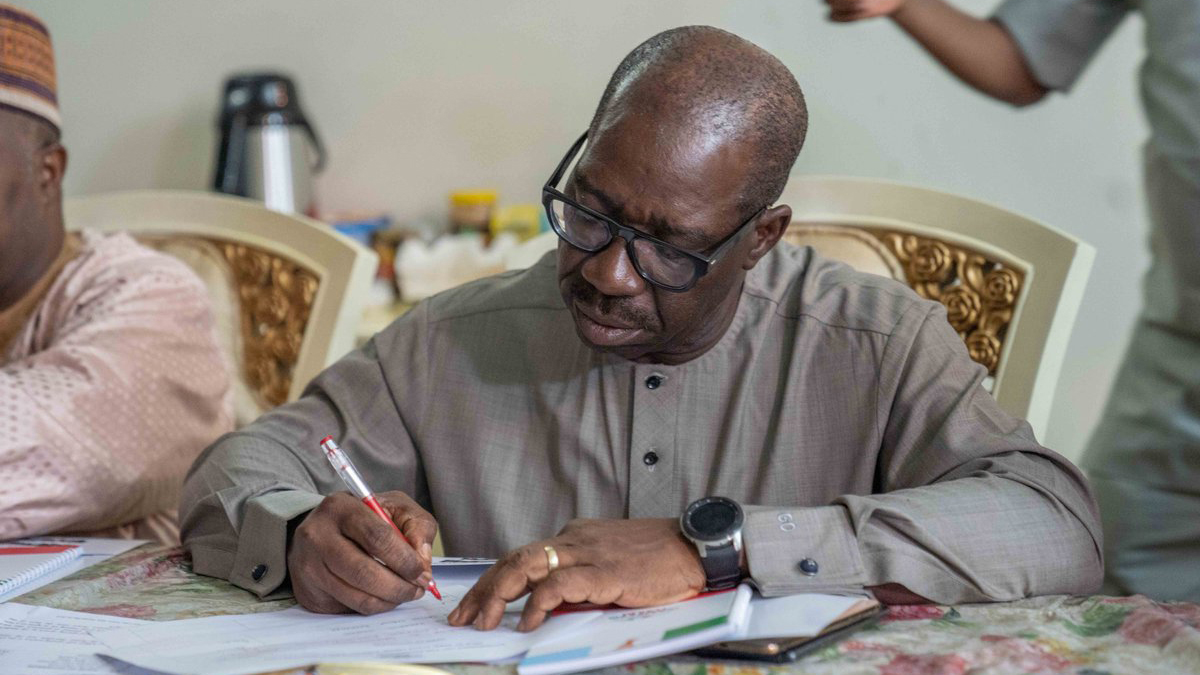 Kassim Afegbua, a former commissioner in Edo State writes that following Governor Godwin Obaseki's brush with Adams Oshiomhole in the bid for a second term, that the governor may now have set his sight on Chief Dan Orbih and others who helped him to win re-election in the plot to emerge  Vice-Presidential candidate of the PDP in 2023.
The Yoruba have proverbs for persons without honour, persons who have a bloated ego of themselves, who probably think by their new position, the world should rise to their feet.
They say no matter how well you cook "ebolo" vegetable, it will still smell bush. They also say that if you make the king's horseman king, he will insist on feeding the horse himself.
I have not stopped wondering how Godwin Obaseki suddenly became this problematic. I am still playing his image on my head, how he used to carry Comrade Oshiomhole's bag in pretense for deference, dip hand in the same plate with Oshiomhole to eat, crack jokes that hardly flowed down the throat.
I never knew it was all an attempt to take a piece of meat from the pot of soup, like the Yoruba would say. But it leaves so much to be desired when supposed friends are now at each other's throat, for a tenured position that will terminate here on earth, and not exported to heaven. I am wondering aloud.
It befuddles me every now and then. But the usual refrain is always an easy recall. You do not truly know a man, until you give him money and power.
Those who are power crazy often end up on the wrong side of history. But the tragedy of their situation is that, they never care about the verdict of history. They are easily carried away by the praises of hallelujah boys and their ostentatious courtiers who feed from the crumbs on the table of the conquistador. Like tragic hero, when the curtain of their tenure is falling, the reality of their tragedy begins to dawn on them. Often times, it comes too late.
From the rhythms of what is playing out in Edo PDP in the last one week, it is crystal clear that Godwin Obaseki, the "almighty Governor" of Edo state, has an identity crisis. When the bubble burst in APC and he was shown the exit door, a lot of people had thought Comrade Oshiomhole was the problem. The blackmail endures. Its narratives were sustained to deceive the public that it was all a contest of trying to eliminate godfatherism from the Edo political lexicon.
Oshiomhole was undone by the tempers of Obaseki's ingratitude. Those who shouted kill the godfather yesterday, are today acting as godfathers and directing with imperial resonance that anyone that cannot live within the dictates of the new godfather, should find the exit door. How pitiable? The same mouth that was used to condemn the king that the crown does not fit the head, is the same mouth they also used to proclaim the crown's fitness. Hmm, human depravity is eternal. It benumbs!
From the reality on ground in Edo, it is obvious that Governor Obaseki has always been the problem and not Oshiomhole. Comrade Oshiomhole might not be your typical itinerant politician, but he has a milk of human kindness. He could be temperamental when faced with certain situations, but his anger level does not subsist two hours. It doesn't travel beyond the throat. He's one moment angry, another minute full of laughter as if nothing had happened. Comrade loves good life, and has taste for good things, but his anointed successor, has become an albatross, not just to Comrade, but to anyone who has been a benefactor.
From Comrade Oshiomhole to Chief Dan Orbih, a politician who learnt the trade from his father, MCK Orbih, one of late Awolowo's foot soldiers in the second republic. Just like Oshiomhole, the APC imported disease has spread to Dan Orbih's PDP in Edo state.
A disease of ingratitude, not being able to say thank you for the good done. An act that finds expression in African folklores, that when a child expresses gratitude for the good of yesterday, he will surely receive another favour. This is not in Governor Obaseki's dictionary. To be grateful is a sacrilege in Obaseki's quotable quotes.
Comrade Oshiomhole must be sitting in one lofty corner of his home swallowing the phlegm of a good laugh. People are beginning to know that he wasn't the problem after all. Done with Oshiomhole his benefactor, Obaseki has now bared his fangs on Dan Orbih, Hon. Ogbeide Ihiam and the state secretary, Hilary Otsu, men who spearheaded his campaign throughout the 192 wards of Edo state.
What was Governor Obaseki expected to do? Thank them for being such wonderful hosts who provided him with the PDP umbrella when he was being soaked in APC's tormenting rainfall. Like a homeless child, beaten thoroughly by rain, he desperately wanted the PDP platform as he travelled to and fro Port Harcourt to seek the endorsement of Governor Wike and also that of Senator Okowa, the Delta state Governor.
I had cautioned the leadership of the PDP to tell Governor Obaseki to seek another party, to showcase his popularity, but all my entreaties and advice fell on deaf ears. Today, the Governor has suddenly unveiled his peculiar style; chased away Dan Orbih, Ogbeide-Ihama and others, for a free reign of dictatorship. That's a man who openly said he was fighting godfatherism.
Governor Obaseki as an artful dodger is on his second and last tenure as Governor of Edo state. I understand he wants to be a running mate to any presidential candidate of the PDP. He sees the indomitable Dan Orbih as a nut that must be cracked.
He doesn't care about whatever support Orbih gave him in 2020. That is past tense in Obaseki's liturgy. He doesn't owe anyone apology over his actions. He has no election ahead of him, even when he knew he would seek a second term under APC, he still displayed his tempestuous attitude. He showed clearly that ingratitude runs in his veins.
He blackmailed APC chieftains and made the public believe they were bunch of famished scoundrels looking for easy state funds. The blackmail worked, but it is now becoming clear with his latest onslaught in PDP, that the man cannot change his spots.
A familiar divide and rule tactics that exposes the inferiority complex of a Governor who cannot engage and sail through his argument through persuasion rather than coercion, tells so much about the weakness in his personality. Democracy is all about contest of ideas and situations. It is about robust dialogue and not forceful ejaculation.
It is unfortunate that Governor Obaseki easily unveiled his stereotypical style in just a year into his second term. It is his peculiar APC disease, a disease of factionalisation and multiple claimants to party positions. At the last state congresses of the APC, 12 states were reportedly presenting multiple executives to party positions. That is the APC style, a disease that Governor Obaseki has imported into the PDP in trying to forcefully integrate newcomers into becoming officers of a party they met on ground with full compliments of functional executives.
How can new members of a party claim authority over older members who had kept the flag flying and sustained the structure of the party? How can? Is that politics or politricks? Is that the ideal? What is the meaning of harmonisation and integration? Those executive officers of the party should voluntarily resign going by Governor-General Obaseki's directive, to give way to his co-travellers?
Power dey sweet sha! I saw you in the rain, out of sympathy, I offered you umbrella and ushered you into my home. No sooner you changed your rain-soaked clothes, than you looked me straight in the face, and told me to leave, that you are now the new sheriff in my home. Chai! DIARIS GOD OH. Governor-General Obaseki, I beg fear God oh.
What would gladden the hearts of PDP chieftains is to see Governor Obaseki turning Edo to construction site. The abysmal level of rots and infrastructural decay that is evidently staring one in the face in Edo, underscores his underperformance in the last one year.
Potholes infested road network, flooding, poor quality of executed jobs, dearth of teachers in primary and secondary schools, closure of some learning institutions, and a decayed health sector, are some of the ills plaguing the state. One would have expected that the Governor devote precious time and energy in fixing the decays, than insisting that he must own a party structure that he recently joined.
Please, tell the Almighty Governor-General Obaseki to sit up and work, than this recourse to ribaldry. It will hurt his rating.