Apologise Over Third Term Folly, Ken Nnamani Tells Obasanjo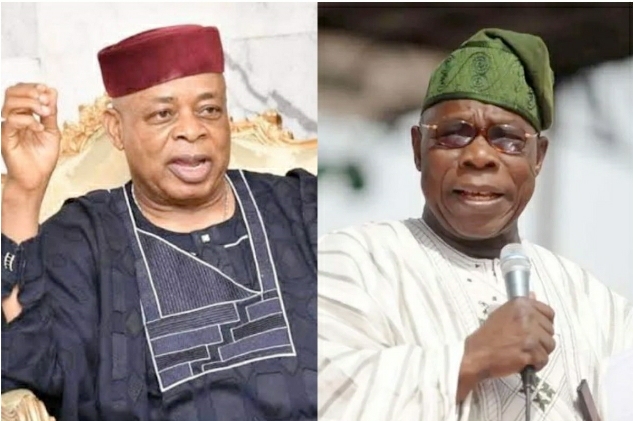 Ken Nnamani has asked Olusegun Obasanjo to stop shifting blame on his alleged third term aspiration, apologise to Nigerians and by that, "use his folly to teach and preach against the evil of unguarded and unchecked power."
Ken Nnamani made the submission in his book, STANDING STRONG: Legislative Reforms, Third Term and Other Issues of the 5th Senate. The book is expected to be unveiled in Abuja on Thursday, October 21, 2021.
Noting that the third term agenda had the imprimatur of President Obasanjo, Ken Nnamani who was president of the Senate in 2006 at the time of the proposed Constitution Amendment said that the president could have used his influence and authority to stop it if he didn't desire it at that time.
He said:
"President Obasanjo continues to insist that he was not behind the efforts to get him a third term in office through a constitution amendment, in spite of the deep involvement of many of his allies, friends and close aides in the project.
"Let's assume for a second that this is true. By his own admission, though , he knew about it. He knew that was an active, comprehensive and well-funded plan towards achieving this. As a patriot, and I sincerely believe that he is one, what should have been his response to these efforts?"
"For someone who loves Nigeria like he professes to do and has demonstrated on different occasions, and seeing how this plan was tearing the country apart, shouldn't he have stepped in and strongly admonished those behind it to stop it?"
Imagining that the plan had succeeded, Ken Nnamani raises question as to whether Obasanjo would have rejected it?
"Now let's assume for a second the bill went through and was passed, would he have with-held assent to it or would he have signed it into law? As a patriot and a statesman, should he not be a moral compass for the nation? Should he not have nipped the whole thing in the bud before it escalated, gained so much traction and generated so much tension? "And if he says he would not have signed it, why would he have stood back and watched all that money expended on that selfish project go to waste? The process of lawmaking in a democracy is expensive. Why did he stand back and let all those resources to to waste. Funds that could have been used to build more schools, train more teachers, build more hospitals, buy more drugs and so on were wasted in the sewage of misplaced ambition.
Concluding with a sign of reprimand, Ken Nnamani urged President Obasanjo to seek forgiveness and apologise over his role in the issue.
"President Obasanjo must, therefore, take responsibility for what he did and stop shifting blame for, in doing that, he only makes his case worse. He should come out plainly, like a true hero would do and own up to his mistake and apologise to the Nigerian people and perhaps use his folly to teach and preach against the evil of unguarded and unchecked power."