Top Actress, Etinosa Idemudia Intervenes As Fans Fight Over Her 'Exposed' Breasts
By GWG Lifestyle Editor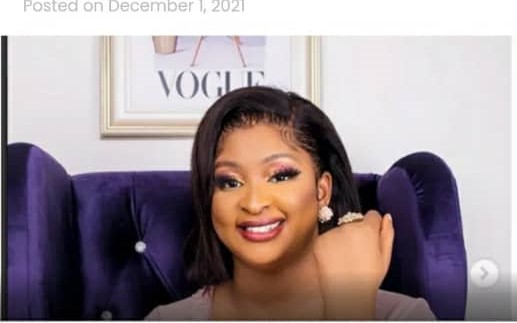 Top Nigerian actress, social media influencer and filmmaker, Etinosa Idemudia has intervened after stirring a fight on social media among her fans over what was claimed as an indecent picture of hers showing much of her breasts. The picture was posted to herald her daughter's first anniversary.
GreenWhiteGreen GWG reports that the outspoken artiste who is twice married and reportedly twice separated gave birth to her baby last December and was full of excitement as the month opened earlier on Wednesday to give a clue as to her joyfulness.
In an Instagram post accompanied with the video of her baby girl, Etinosa Idemudia had also posted a revealing picture of herself showing much of her breasts.
She had said:
Happy New Month everyone. It's my baby's birthday month 💃💃
So excited!! By this time last year I was at the 'get this baby out of me!!!' stage 😂😂😂 I was literally done! It's been one whole awesome year of bliss Yaaaaayyyyyy 🍾🎉🥰
@babykris_uwa #birthdaymonth
Her post was welcomed by many of her fans and associates including Uche Ogbodo, Efe Warri Boy among others.
However, the comment by a fan so.seal expressed disapproval with her dressing. The fan said:
You look pretty but your dress does not look decent
The comment brought a sharp rebuke from demisexualbabe who wrote:
@so.seal Madam Fashion Police. You have guts sha. What part of mind your business don't you understand? Stop dictating to people how they should look or act. Her page and life.
But so.seal retorted:
@demisexualbabe was I talking to you
Retorting, demisexualbabe while damming so.seal for violating their star's privacy said:
@so.seal No but learn to respect people's choices and stop pokenosing. If you don't have any good thing to say about people, then keep quiet.
The fight caused Etinosa Idemudia to wade in to apologise to so.seal over the dressing, that exposed her breasts, saying:
@so.seal I apologize. I will do better next time
The Etinosa Idemudia also calmed her protector, demixexuablabe, telling her:
@demisexualbabe it's fine❤️❤️
Her intervention only quietened the fight between her fans as they soon resumed with so.seal throwing back at her antagonist thus:
@demisexualbabe could you kindly shut your smelling mouth. I was not talking to you. It's my opinion not yours.
so.seal also went on to pay loyalty to their common star, Etinosa Idemudia putting away the fact that she provoked the indecent dressing spat.
@etinosaofficial I'm not trying to be disrespectful to be honest with you. I'm a big fan of yours.
The spat also drew in another fan of Etinosa Idemudia, porschekayk who flayed so.seal over what she described as the guts to comment on the alleged indecent dressing.
@demisexualbabe exactly. Imagine the guts. Like anyone asked you for your irelevant opinion @so.seal