Social Media Storm Over Tonto Dikeh's Dressing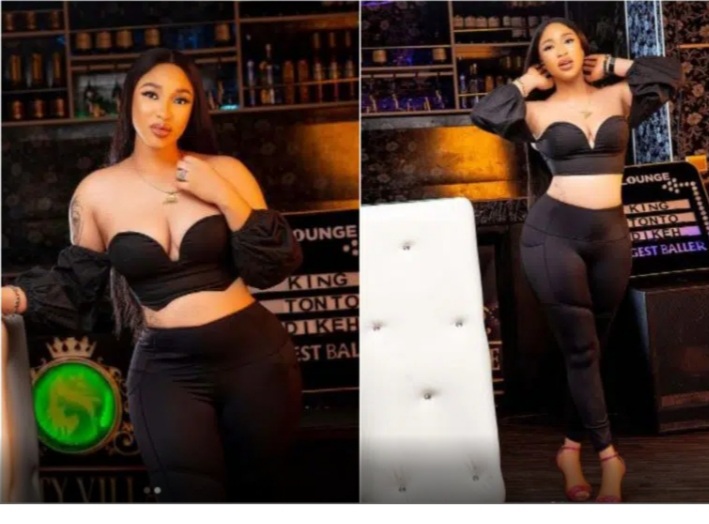 Ten months after vowing not to wear revealing clothes anymore on account of her age and her baby, Tonto Dikeh has ignited social media after dressing in a way that revealed much of her cleavage.
The dressing which showed much of her glowing skin was admired by the majority of her fans who swam to her Instagram page to pay tributes to her with several revering and sometimes worshipping her.
However, there were a few who made references to her past vow last February when she in a message on her social media page vowed not to wear revealing clothes.
She at that time said that at 35, she had become too old for such.
However, her change drew comments with some saying that she can never change despite her repeated profusion of godliness and drive for the kingdom of God.
GreenWhiteGreen GWG gathered some of the comments from social media.
real_stephanie.kelly was quick to make a comment about Tonto Dikeh backsliding on account of her dressing.
Totolet don leave heavenly race😂😂
itsdoraeka
Well done anty. The heart break 💔 still dey pain u. You can block me if you want
janechristopher62
How una de manage wear this kind clothe sef?❤️
bmj_mj__
This is beautiful sha 😂😂😂😂 e hard not to show body o💀💀💀😭😭😭😭😭😭😭
tazeoghogho
This is what happens when you change because of someone
vivian.richgirl
That woman…. Her repentance no start today. Each time she says anything about repentance in here, just know say she don catch new bobo
just_callme_kayjay writing about Tonto Dikeh's dressing, said:
She's just a hopeless romantic
cakestar222
How do you expect her to still stay relevant without drama when she is no longer acting.A king and more
chinenyealiche
She needs husband nau se born again go provide husband biko let her showcase rather than dress like an old woman
akukuoge1
@chinenyealiche ….Dressing such manner only attracts MEN and not HUSBAND… Know this..One is just a gender…