Euphoria With Peter Obi Will Fade When Tinubu Rises – Olaosebikan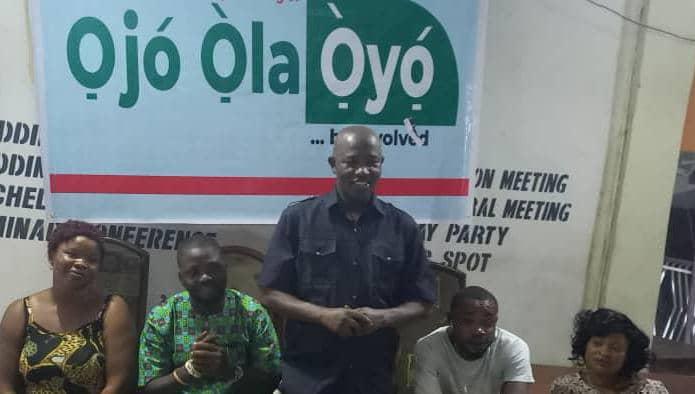 The social media generated euphoria surrounding the ambition of Mr. Peter Obi, the Presidential candidate of Labour Party has been described as a flash in the pan that will fade no time once the country's most functional political actor, Asiwaju Bola Tinubu stirs himself.
Founder of an Oyo State based youth group, Ojo Ola Oyo, Mr. Kehinde Olaosebikan made the declaration in Ibadan Thursday while speaking with journalists on the sidelines of the extraordinary meeting of the group at Mount Pleasant Hotel, Podo.
Olaosebikan said such flashes were not new to the political, social and economic environments of Nigeria stating that they usually disappeared as they came, "because they were never based on anything concrete but on mere fantasy, illusion and grandstanding".
Olaosebikan who was asked by journalists on how his now popular projection that Asiwaju Bola Ahmed Tinubu would be the next President of Nigeria considering the seeming popularity of Peter Obi, maintained that from his experience with the Nigerian youths they would rather act now based on realities and proven records of achievements having suffered so much in the hands of politicians who had promised them heaven on earth but eventually made life more hellish for them.
"This is not the first time we are witnessing such fleeting euphoria.  We have seen pastor politicians who gained temporary traction because of declaration that God asked them to contest for president; in business, we had seen flashes in form of finance houses promising incredible interests; in real estate, we had seen flashes of mortgage firms making impossible offers during the time of 'everybody come inside'; in medicine, we had witnessed passing euphoria too, where marketers promoted a drug for the cure of all ailments that eventually cured nothing; all hurtled because they were based on fantasies," Olaosebikan said of how Peter Obi will fade when Tinubu starts his campaigns.
"So, I can tell you they are ready and more inclined to voting for the candidate that is known to have 'developed boys to men' as the former governor of Akwa Ibom State, Chief Godswill Akpabio described the Presidential Candidate of the All Progressives Party, APC, Asiwaju Bola Ahmed Tinubu; the candidate that has developed and mentored both young and old Nigerians to become governors, ministers, vice presidents and president.
Olaosebikan said that the candidate of the All Progressives Congress, Asiwaju Bola Tinubu has demonstrated to be the best so far amongst all the former governors and leaders in Nigeria, particularly those contesting the presidential race with him in all aspects of life. "Asiwaju Bola Tinubu has established himself as the most functional politician, leader, administrator, nation builder in the country today."
Earlier in his welcome address, the President of Ojo Ola Oyo, Mr. Wale Adesope pledged the total commitment of the group to the APC presidential candidate, Asiwaju Bola Ahmed Tinubu disclosing that it would when campaign proper starts, embark on "house to house, cell to cell, media to media, platform to form" campaign to fully mobilize the youths for Asiwaju Bola Ahmed Tinubu, because, " We are very sure that he will do well for the youths as the President of our dear country", said Adesope.
He was full of praise for the Minister of Youth and Sports Development, Chief Sunday Dare for the numerous life changing innovative programs being implemented by the ministry adding that the National Youth Investment Fund (NYIF) was the best thing to have happened to Nigerian youths.
GreenWhiteGreen GWG reports that the claim by Olaosebikan that the euphoria about Peter Obi fading when Tinubu starts campaigning is one that is bound to test the feelings of Nigeria's growing population of Obidients as the Labour Party presidential candidate are named.
Send Us A Press Statement Advertise With Us Contact Us