Outrage Over Video Clip Of Man Beating Girlfriend In Public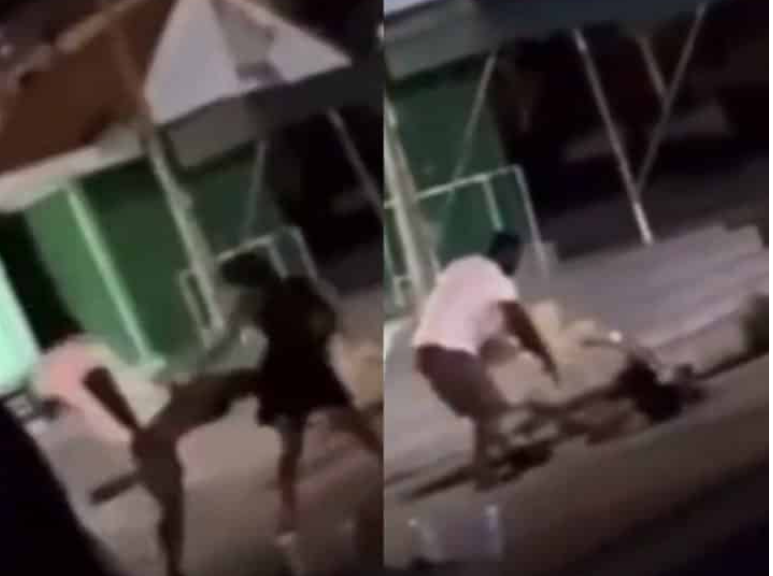 The video clip of a young man beating his girlfriend mercilessly in public is drawing outrage in social media with blames going to three different parties involved.
The incident coming in the wake of the similar outrage of a young man in Kwara and his friends flogging his girlfriend who was accused of flirting with another man is further drawing attention to the fate of ladies in domestic relationships.
This case, however, happened outside Nigeria and in Obuasi in Ghana. In this case the man was trying to calm her down but she was apparently unwilling as she grabbed the obviously heftier man who in response hit back at her viciously beating and pounding her while some men who stood by appeared unconcerned about the plight of the lady.
GreenWhiteGreen GWG gathered some reactions to the viral video of the man beating his girlfriend in public. There were various reactions with some blaming the man, others blaming the girl for pushing the man and others blaming the friends who stood by and recorded the video:
marialisa7049
Do this to my sisto and enjoy ya life behind bars
princekennedygh
For you to be comfortable enough to take this video… I don't think you have a heart 😔😔
nanakwame009
These days ankasa I don't get it. People will have time to record things like these to post yet won't have the conscience to help out !!! SMH
benje.72
That was too much waa look at your shoulder you can break her bones, you could are take it easy as a man
blacka5k
She really mess up, sometimes ladies must learn not to dare or bring out the beast in any man because you will not like it.
loladeajiboye
mina1zee
Can you resist this type of temptation from a woman?
mayormarley20
Just look at the way the lady is also intimidating the guy before this whole shit
princetunkara2
She should walk away!!!! Her fault 😂
calmcarmel2021
And these just looked on 😢😢
cerrovy
Sometimes women push men too far. Regardless , the man should have just walked away
melanated_kvng___
Some women actually call for it to be honest! No matter what a man does to you, never push him around like that in public
en_dreww
And the narrative will definitely have the man in the wrong ! But sometimes , just sometimes , let's learn to not provoke, some of us will Walk away , others may not ! Fact is u won't know which is which till it's too late
philimens
It is what it is, ok so Man beating Woman = Man to sign bond not beat any woman for 5 years probation, that's my judgement 🤥🤥🤥🤥🤥🤥🤥🤥🤥🤥🤥🤥🤥🤥🤥🤥
gabby_de_gabe
Sometimes I blame the women…she called for it cos he was really calm until she pushed her to the wall but he shouldn't had gone too far
kwamsofficial
And people will start blaming the guy, sometimes check the lady's too. By now na nc dindiiiiin din!😂😂
muftawu_mugsinu
😂😂😂Vuulence everywhere
Watch the video of the man beating his girlfriend in public:
Send Us A Press Statement Advertise With Us Contact Us
 And For More Nigerian News Visit GWG.NG