Torture Of Lagos Policemen: Nigerians Mock Indicted Soldiers To Go, Face Boko Haram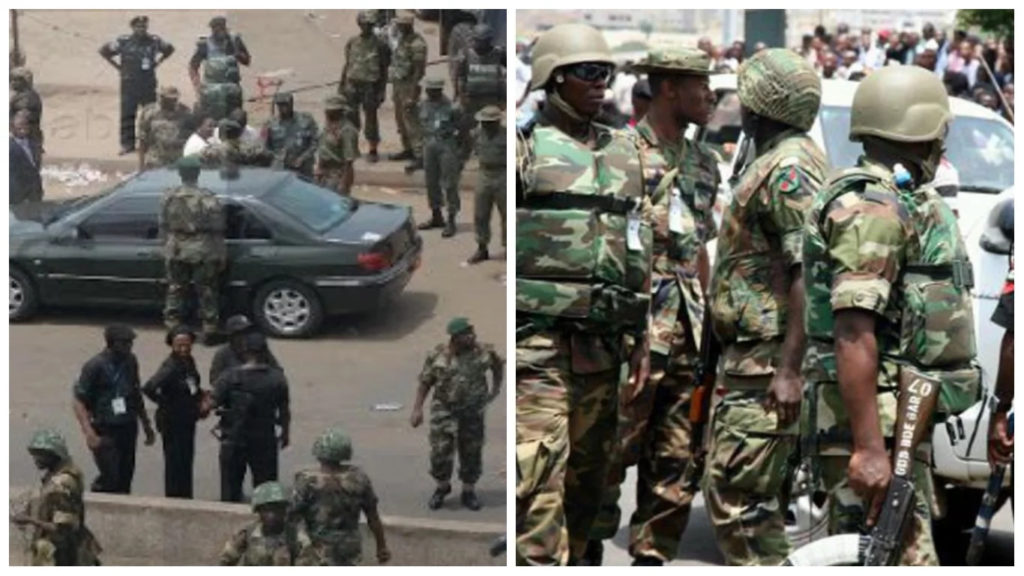 Despite the love-hate relationship with the men of the Nigerian Police, ordinary citizens have been reacting with outrage to the news of the torture of some policemen by soldiers in Lagos with one of the victims losing his life.overdd
Another of the tortured policemen is said to be lying critically ill in the Military Hospital, Ojo, Lagos following the assault. The police inspector who lost his life on account of the torture was named as Orukpe Monday.
GreenWhiteGreen GWG reports that Senior police and army officials in Lagos entered into crisis talks shortly after Inspector Orukpe Monday died from the torture.
According to reports, the soldiers were on their way to attend a training programme at the Ojo Military Cantonment on Wednesday when the bus conveying them to the destination encountered mild traffic around the Trade Fair area of the Lagos Badagry Expressway.
A source said some of the soldiers, upon realising that the traffic was caused by policemen trying to pave the way for a truck driver to link the expressway, came down from the vehicle to challenge the policemen.
The source, however, said the situation led to an argument that degenerated into a fight when one of the soldiers allegedly slapped one of the policemen, adding that the soldiers arrested two policemen. In comparison, the other three policemen fled to safety.  
Reacting to the incident, social media users blasted the Lagos soldiers some mocking them over the torture of the policemen charging them to go face their duty of dealing with Boko Haram and other terrorists. 
See some reactions below:
@eprosperoe: Na on top weak policemen them fo show their power, they no see Boko Haram, bandits, herdsmen, iswap them go torture 🤣
@evansfunds: @rrslagos767 hasn't seen anything yet since they have vowed to make life difficult for the youths death will be their position till eternity🙏🙏
@ismailakintoye1: This is typical of the soldiers. It is not the first, unfortunately, it won't be the last
@pee_igbonekwu: Seems like we're still in the military era…
@clgbos1: time to jail officers who murder Nigerians extrajudicially for life or 50yrs in jail Only this will stop uniform power drunkness in Nigeria. A mentally challenged person will come out bcs he or she is on uniform & abuse others & some cases end their lives untimely
Send Us A Press Statement Advertise With Us Contact Us
Send  Us A Press Statement  Advertise With Us  Contact Us
 For Nigerian News Visit GWG.NG