Ize-Iyamu/APC: What Manner Of Anointing?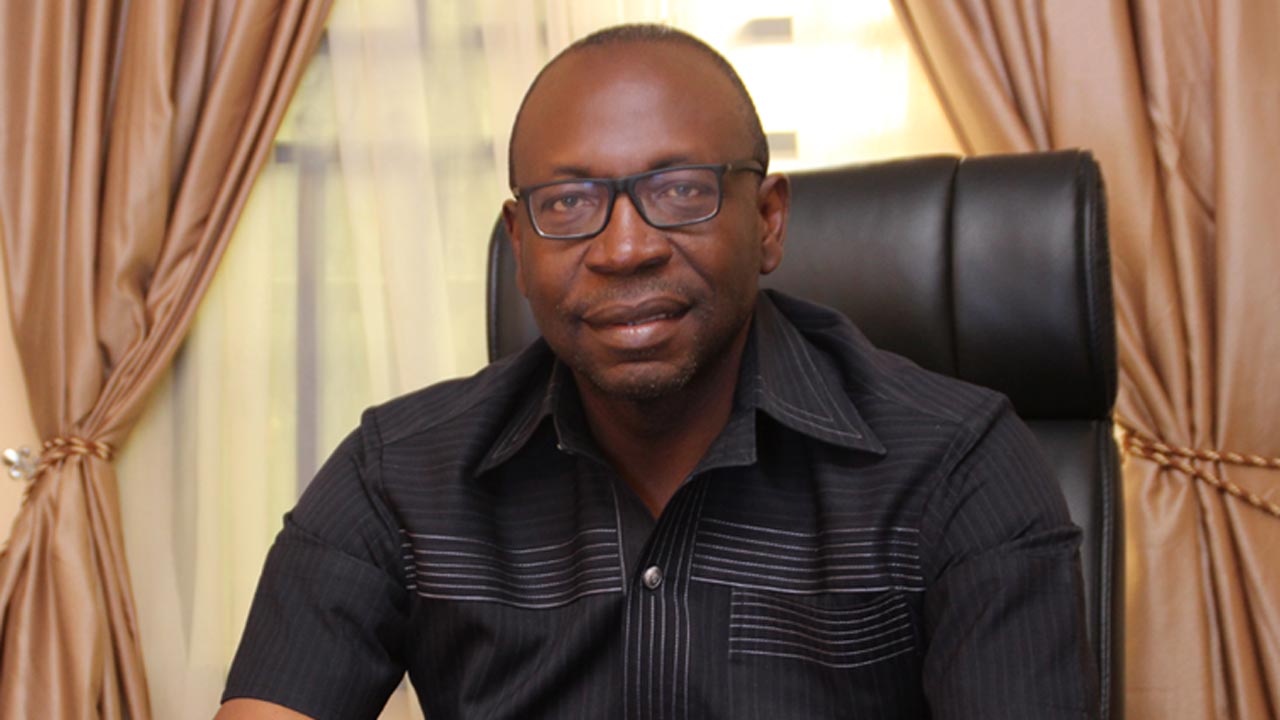 By Ramson Uzuangbe
Politics and politicians in Edo State are as variegated and diverse as those on the national platform, even though the hues and shades may not be as many and pronounced as on the former.
One defining but frightful factor that has crept into the politics of Edo State is the violent streak that has gradually seeped into the lower and higher segments of the ruling APC (All Progressives Congress), which has metamorphosed into a cauldron of bile whose operating mantra now revolves round the Machriavellian doctrine of "The end justifies the mean."
Edo people fear that it may escalate into orgies of violence, ballot-box snatchings and destruction, muggings, arson, cultic oppression and forced fetish allegiance etc. The case of Kogi State is instructive. The gale of impositions and the attendant crass indifference to the opinions of the rank and file of the ruling APC, was discountenanced on the road to the forced adoption of the incumbent, but hugely unpopular Governor Yahaya Bello and an election that was more of a war than a democratic contest.
It is in this trending mix that we are situating Pastor Osagie Ize–Iyamu's precipitate entrance into the simmering dog-eat-dog experiment to play the ignoble role of a Sanwo-Olu and subsequently supplant Governor Obaseki, who dared to refuseorders to throw the doors of Edo State Treasury open to Comrade Oshiomhole and his lapdogs, to decimate.
The larger membership of the Edo APC are recoiling from the reality of a Pastor Ize–Iyamu, leisurely strolling into the party's governorship candidature calculus and reaping where he did not sow or tend. The party's members are aware that a season of bare faced dictatorship, laced with all manners of belligerence, bellicosity and threats will be deployed from Abuja by Comrade Oshiomole to hoodwink and pulverize them to accept Pastor Ize-Iyamu, will be deployed with much alacrity.
On the other hand, those who are conversant with Pastor Ize-Iyamu will testify to his political pedigree and odyssey from his days as a Personal Assistant to the Chairman of the larger Oredo Local Government Council from 1988 to 1989 and to the present, that he (Ize-Iyamu) has always been mesmerised with the allure of power and its accruing economic appurtenances – a fact that has become his totem in political and social circles.
In spite of the fact that the buck stops at the governor's table, in the state, Pastor Ize-Iyamu wielded and assimilated enough power and authority to "colonise" his friend's (Chief Lucky Igbinedion) constitutionally-assigned duties and virtually became the de facto governor of Edo state in the eight-year Igbinedion misrule. It is rather a matter of conjecture on how he will square up to Oshiomole as a surrogate governor, if he will ever be elected one, considering the duo's attachment to wielding power and dispensing it and its accruing "dividends of democracy to their friends, associates and families.
When Pastor Ize–Iyamu made his first missionary journey to the APC (then known by a bouquet of nomenclatures: Advanced Congress of Democrats; Action Congress; Action Congress of Nigeria), he never took interest in the welfare of those he left behind in the People's Democratic Party. Going back and forth, the same tune still rings that Pastor Osagie Ize – Iyamu has activated one of his abiding pep-peeves: that of becoming the governor of Edo State, at all costs and therefore look after himself and his acolytes and cronies.
Comrade Oshiomhole will be playing on a familiar turf with the contrived entrance of Pastor Ize–Iyamu and his band of followers into the APC. It will be the second time he will be imposing a governorship candidate on his party in the run-up to the 2020 elections in Edo State. It is apparent that he is taking Asiwaju Bola Tinubu as a political role model especially in the case of Akinwunmi Ambode was tactically stopped from running for a second term because of what his greedy mentor and party men and women termed "disloyalty and impoverishing tendencies".
Accusing Governor Obaseki of sundry malfeasance, the Osiomhole's faction of the Edo APC, made up of a motley crowd of aggrieved and "hungry" party people, took battle positions for personal and pecuniary reasons to debar Obaseki from running for a constitutionally allowed second term on the ticket of the All Progressives Congress (APC).
It is conventional wisdom within the PDP that Pastor Ize–Iyamu wanted the PDP governorship candidature without going through the processes of a party primary where he was sure he will not be chosen as one and the party opted for the primary route.
Politics involves competing interests, ideas and persons for power, position and influence. It is impossible to satisfy the aspiration of everyone in contention. It is even more so for a vibrant party with a ready and teeming pool of qualified, skilled, educated and intelligent members angling for the few elective and appointive position available – in this case , the governorship of the state. When Ize–Iyamu saw that his dream of sole candidature was anathema to PDP's belief in democratic norms and practice, he opted to go to the APC, where he was recruited, through "anointing" as the party's choice by its sole administrators, Comrade Adams Eric Aliyu Oshiomhole .
It is instructive to note that , unlike , the first Obaseki experiment , Oshiomhole will be (or is) facing and fighting the rejuvenated and repositioned PDP , on one hand and some of his party's most resilient and articulate chieftains such as Major General Charles Airhiavbere and Engineer Chris Ogiemwonyi, who are also interested in the Edo 2020 governorship race. In fact they have been the sponsors of the well-coordinated "war" against the second term dream of the incumbent Governor Obaseki, from the periphery and then the Major domo talks about "anointing".
It will be difficult to coax these gentlemen who have invested their time , energy and material resources and shunt them aside for an incurably-ambitious Pastor Osagie Ize-Iyawu who is strolling in to inherit and be anointed for the APC candidature they have done the dirty job to confront and fight the sitting Governor and his men to a standstill.
On Thursday , November 21, 2019 , Pastor Andrew Osagie Ize-Iyamu and his horde of followers, in a carefully-choreographed move, formally exited the People Democratic Party (PDP), to join the crises–riven All Progressive Congress to pursue his ambition of being elected "as the governor of Edo state , from November 12, 2020.
He declared, that "we are going into the APC with good intention and not to join factions. We are going to join APC to help strengthen the party" furthermore, he said that he and his people were joining the party to "fulfill their ambition of making life more meaningful for the people".
If you believe the above quote, you will believe anything! Pastor Ize-Iyamu and his motley crowd of followers joined the Oshiomhole/Edo People Movement faction of the Edo APC as its pre-anointed candidate, pending the formalization of same, through a programmed and sham party primary.
Pastor Osagie Ize-Iyamu's most glaring credential is that he is of Edo stock and ready and primed to be a " Sanwo-Olu " , who will supplant Governor Godwin Nogheghase Obaseki in the coming polls . And he will be building a sand castle at the sea side as it is common knowledge that there is a volcanic clique within Edo APC with the voodoo conviction that only Pastor Ize-Iyamu does not possess the magic want to retain Government House, Benin City for the APC. They believe that Oshiomhole and Ize-Iyamu and their cohorts will be building a sandcastle VERY CLOSE to a raging and tempestuous tidal wave set in motion by the National Chairman, himself.
Ramson Uzuangbe is the National Coordinator, Edo Good Governance Forum