Losing Fun In Football Through Betting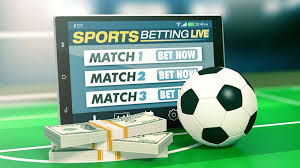 By Ekene Dike
According to the Oxford Dictionary, the word "Betting" means the act of risking money on the unknown result of an event. It is referred to as a risk in hope of gain.
The concept of betting is bordered around a calculated risk. For over five years and still counting, betting companies have evolved, multiplied and propagated to different parts of the world. Football fans use the betting sites as a platform to test their knowledge of the game and have fun.
Some use it as a means to get extra income, while for others it is a chance to have fun through predicting the outcome of matches via staking of money.
HOW DOES IT WORK?
There are betting odds which determine the amount of money someone can win.
The Betting odds are multiplied by the amount of money that is staked.
For example, if a person stakes 1000 naira on Manchester United to win Chelsea and the betting odds for Manchester United to win is 2.00, the person will win 2000 naira.
This means that before the match will begin, your potential return will be 2000 naira. So there is a likelihood that your money will get multiplied after the match. Apart from football lovers, and ardent gamblers, a normal human being will be interested in such an easy means of making money.
Although it looks easy, not until what you predicted didn't come to pass and all your money is gone without any trace of getting a refund.
THE BAD PART OF BETTING
Football as a game is highly unpredictable and no previous statistics or head to head record can ascertain the outcome of a match and that is why most people keep on losing money on betting websites.
In the 2018 World Cup in Russia, Argentina's first group C encounter with debutants Iceland ended in a 1-1 draw.
So many people would have staked their money on Argentina considering the quality of players they had in their squad, and the existence of Lionel Messi in the team.
The six times Ballon d'or winner also missed a penalty in that game and it was a disappointing result for himself, Argentina and all the people that staked huge amounts of money on the South American giants to win.
Mexico also shocked the whole world when they defeated Germany in their opening group stage match.
Anybody would have expected the defending world champions to crush their opponents, only for the match to end in the favor of the Mexicans.
Just yesterday, high flying Maccabi Haifa lost to bottom of the league side Hapoel in the Israel top flight.
That result alone was enough to send so many stakes into the trash can and leave many people disappointed.
However, in a country like Nigeria which possesses a dwindling economy and has most of her citizens living in penury, betting is considered as a shortcut to make money. This betting virus goes beyond just normal stakes.
Some people take huge risks by making use of their salaries to place on bets which end up failing.
Students make use of their school fees to stake on games too and when the games don't turn out as they want it to be, they end up getting frustrated and depressed.
Also, there is an addiction that comes with betting because of the psychological game it plays on football loving fans.
People think they can predict matches just because they have knowledge of football, which is a wrong approach. Even when you keep on losing, you still want to try again and again.
Football prediction websites like windrawwin.com and flashscore have aggravated the addiction problem.
People visit those websites to check for head to head records and previous results.
Many people are devoid of the knowledge that the statistics can never determine what will happen and the betting companies will keep on flourishing through luring people to lose their hard earned money.
Unfortunately, people nowadays don't watch football for the love of it anymore.
They monitor matches just because of what they played in their tickets. The certainty of the outcome of a football match will remain an unresolved puzzle forever.
Betting has done more harm than good in the current football world and maybe the time has come to resist the temptation and just enjoy watching our football without holding our tickets on our hands.