PDP Gains One Gov As Obaseki Joins Its Fold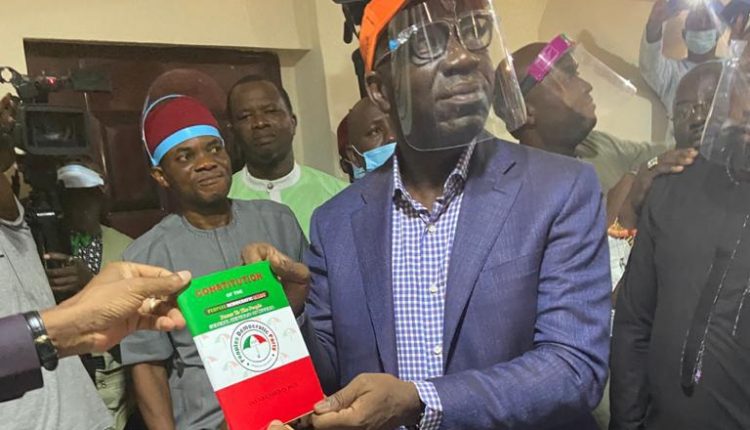 By Francis Ogbuagu
The Peoples Democratic Party, PDP on Friday gained one more governor when Governor Godwin Obaseki switched affiliation from the All Progressives Congress, APC to the opposition party.
Obaseki was welcomed to the party by party chieftains at the state secretariat of the party after he was handed his party membership card by the chairman of the Oredo Ward 4 party chairman.
As he declared his intention to join the party he was vociferously welcomed with thunderous applause with supporters shouting 4+4!
The movement towards the PDP GWG gathered was despite efforts by fellow governors and some other party acitivists to restore his membership of the APC.
However, a source close to the governor told GWG that the APC ticket with the developments at the national secretariat may have become an infectious liability.
Obaseki's entry into the PDP came after he was handed the party's membership card at the 2nd East Circular Road secretariat of the party.
Receiving the governor, the PDP state chairman, Dr. Tony Aziegbemi said the party was delighted to have the governor in its fold and that the Governor is the leader of the party in the state and that they are looking up to him for leadership.
The governor on his part said he had studied the PDP and believes the PDP is a party that is governed by democratic principles and that having studied the party's constitution which confers on him the position of leadership, he said he would provide the required direction for the party to win in the forthcoming elections.
With the development, the PDP now has 15 governors, the APC 20 and the All Progressives Grand Alliance, APGA one.