Uproar After Teni Calls Erica 'Omo Igbo'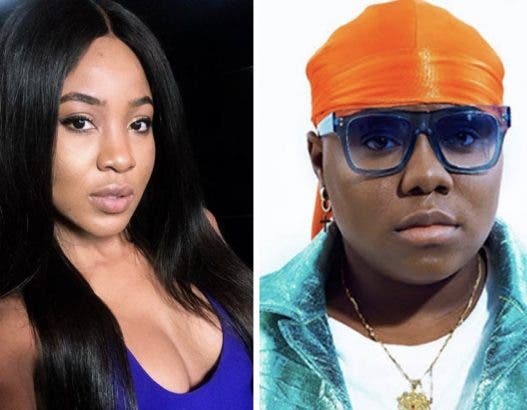 By Emmanuel Adigwe
Popular Nigerian singer, Teni, has set social media abuzz following the revelation of a video where she called evicted BBNaija housemate, Erica, "omo Igbo".
GWG recalls that before Erica's disqualification, she was the love interest of fellow housemate, Laycon, who had tried to win her affection but Erica preferred a relationship with Kiddwaya, son of billionaire businessman, Terry Waya.
This development made Laycon emotionally stranded for a while but he shrugged off his feelings and moved on.
However, a video emerged online where Teni was addressing Erica as "omo Igbo" to leave Laycon alone so that he could concentrate on the reality show.
This development sparked criticism as many frowned at the term – 'omo Igbo' as derogatory. Others saw no harm with the remark.

GWG brings some of the views.
LAYCON's BLOG@layconblog wrote: "Here's a beautiful Igbo lady calling herself Omo Igbo. At what point did the word become derogatory?"
I am JULIA@drip_jules wrote: "Everyday in 9ja, we call each other names like; e.g, omo igbo, yoruba boy, aboki, even any girl named kafayat is automatically an Alhaja. So because Teni said "omo igbo" now una wan rush am because na celeb. Go and fight iya biliki calling you omo igbo in your street!"
I am RIEL@Iam_Riel7 wrote: "If you think Teni saying omo igbo is demeaning, abeg stop calling foreigners 'Onyibo people'."
LANKY @ThatLankyBoi wrote: "You're angry that teni called someone "Omo igbo", but meanwhile you call foreigners "Oyibo people"… mtcheww, rest jare…"
Ada just@Abikelagoss wrote: " don't know why . But I'm never comfortable with Yoruba folks calling me "Omo Igbo "knowing how they call you that with a funny tone. I can't explain it. But nah I'm not comfortable with it."
Unu Amaro Kam Siri Kwado@AfamDeluxo wrote: "Nobody will see anything wrong in Teni addressing Erica as "Omo Igbo" but if an Igbo celeb like Genevieve Nnaji addresses Laycon as "Onye ofe mmanụ" in a solidarity video for Erica just like Teni did, there will be outrage everywhere. Hypocritical lots.!"
The Tech Guy@felixdeco91 wrote: "Yoruba calling igbo people "omo igbo" is like hausa calling igbo people "nyamiri". It's never for a good intentions. Know this and know peace."
Unu Amaro Kam Siri Kwado@AfamDeluxo wrote: "Nobody will see anything wrong in Teni addressing Erica as "Omo Igbo" but if an Igbo celeb like Genevieve Nnaji addresses Laycon as "Onye ofe mmanụ" in a solidarity video for Erica just like Teni did, there will be outrage everywhere. Hypocritical lots.!"
KIKELOMO @KikesX wrote: "I stayed in Anambra for over a year and they call me "Omo Yoruba" "Onye Yoruba". Y'all call Hausa People "Aboki". But now calling an igbo person "Omo igbo" is now an insult all of a sudden. You people really need to rest with seeking unnecessary attention & fight on this app."
The Tech Guy@felixdeco91 wrote: "The way yorubans sees "onye ofe mmanu" as an insult that how Igbos sees "omo igbo" too. And seeing the relationship between Laycon and Erica currently, "omo igbo" is derogatory. Make una dey reason abeg."
Mr Xpression™@MrXpression_ wrote: "This isn't true. People in the east would always use the word "aboki" when referring to a person from the north. Aboki means "friend". It's either you've been nowhere near the east or you're just chasing clout. Grow up!"
Adaonature@adaonature wrote: "you guys need to calm down,and it's "nnama" which means ANIMAL and they call anyone that behaves like an animal(uncivilized) nnama, doesn't matter the tribe, I've been called nnama by relatives, if they call u nnama it's because at that particular moment u were uncivilized."
olúwátìmílẹ́hìn@blokirati wrote: "Bro, us Yorubas are such generational liars lmaoo . Everyone knows "ọmọ igbó" just like "aboki" or "onye ofe mmanu" are equal parts derogatory and harmless jest. Besides, the way Teni said it was almost accusatory lool. She's a shit musician any ways so no surprises."
BBN2020 Updates@TifesClothing wrote: "Omo Igbo doesn't translate to "onye ofe mmanu" ogbeni, that would be "Onye Yoruba" and there's nothing derogatory about that. If you want to compare then use the direct translation and stop all these petty tribal pity party."
Chrisa@Iam_ChrisAustin wrote: "Father Lord may tribalism in Nigeria not lead to the downfall of this great country rather that we might grow together in unity and peace as one great nation. No more "Omo Igbo" Teni please."