Did Police Photoshop Suspects With AK-47? Nigerians React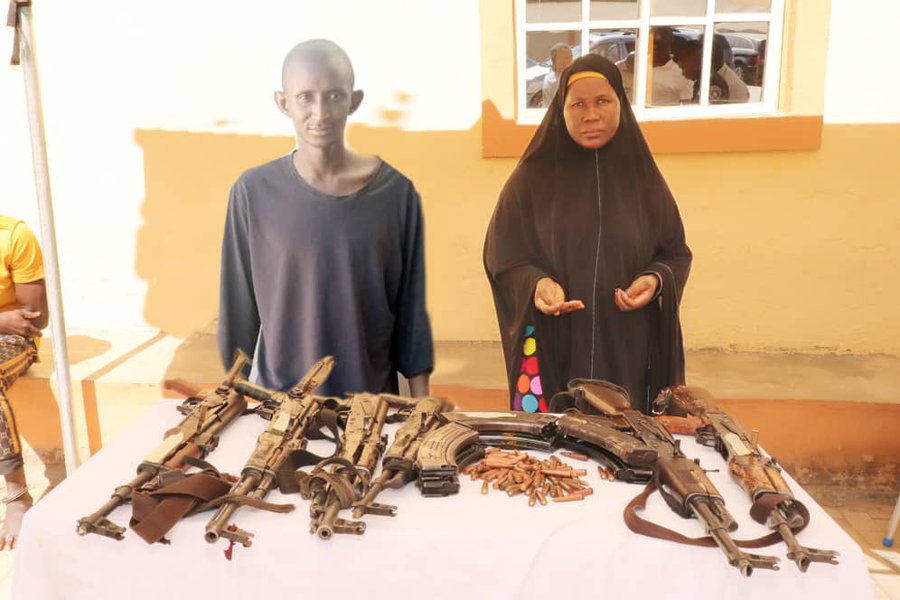 The Nigeria Police Force (NPF) was on Tuesday under intense criticism on Twitter over allegations that the police may have photoshopped pictures of suspects with Ak-47 rifles.
The police had on Tuesday shared an image via its handle wherein a man and a woman were seen with Ak-47 rifles and ammunition.
"#PhotoNews: L-R: Duleji Alhaji Abubakar a.k.a Ori jeje and Talatu Ibrahim from whom six (6) AK49 rifles were recovered," the image captioned.
A close examination of the photograph, however, showed that it may have been poorly manipulated and distorted.
One of the Ak-47 rifles appeared to be "floating" over a white background, a scenario that meant that it was added to the picture using photo editing software.
The manipulation of the image was discovered by many Twitter users who lambasted the police for supposedly framing the suspects.
@Fabulous_drb tweeted: "Let it be known that the official twitter account of the Nigerian police force posted a photoshopped picture to misinform the general public. Gaddem."
@Nwo-Diali PH tweeted: "The picture on the left is different from that on the right based on colour. The background on the place circled white is different from the pictures background. Zoom to the man's shoulder, you'd see a cropped line. Oga police, no dey lie give us, this is why we protest."
@Toyosi4layan tweeted: "Nigeria Police no Sabi anything Even to pay someone to do a great photoshoping job they can't."
@Sodiumhydrate_ tweeted: "I don't know when all these government agencies would understand that all these kind of nonsense can't work on Twitter. Na Instagram people fit dey do "awwwn" and "well done". Na VAR officials full here."