Why PDP Is University Of Lies – Buhari's Supporters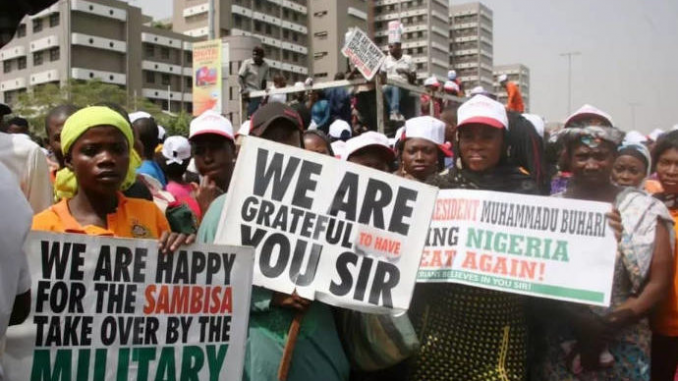 Supporters of President Muhammadu Buhari have accused the Peoples Democratic Party, PDP of twisting facts to give a false narrative of the state of the economy prior to the 2015 handover. The Buhari supporters labelled the PDP a University of Lies.
The Buhari supporters under the aegis of the Buhari Media Organisation, BMO accused the PDP of painting a rosy but false picture of pre-May 2015 Nigeria.
In a statement signed by its Chairman Niyi Akinsiju and Secretary Cassidy Madueke the group said the President Muhammadu Buhari administration deserves to be judged on its record of performance vis-a-vis what it inherited from the profligate former ruling party.
Insisting that the PDP is a University of Lies, the Buhari supporters said:
"We noticed how PDP jumped on the President's straight-from-the-heart appeal to government critics, to make the type of claims that made some Nigerians describe the party as a University of lies.
"We cannot but agree with those who came up with that nomenclature for a party that is always cooking up figures or plucking numbers from the air to give a false impression of its 16 years in power at the centre.
"What type of people would, with a straight face, claim that '30 million businesses crumbled' under the Buhari administration while 60 million Nigerians lost their means of livelihood'? We dare say that only a party that has elevated outright falsehood to an art form could cause such hare-brained positions to be published when World Bank data show that the country had about 112m people living under the poverty threshold in 2012 and 79m in 2019.
"We invite Nigerians to note that this is not the first time PDP would twist facts and figures. it has a lot of fake figures and numbers its media handlers regularly dish out to cast the All Progressives Congress (APC)-led government in a bad light, but we know that the public cannot be easily be hoodwinked," the Buhari supporters insisted in defence of its claim of the PDP as a University of Lies.
"For the avoidance of doubt, contrary to the impression that President Buhari inherited a robust economy, the then PDP government had been borrowing domestically from commercial banks, at commercial rates, to pay salaries of Federal Government workers at the first sign of falling oil price.
"Besides, between June 2014 and June 2015, the country lost more than four per cent in its GDP, which declined from 6.53% in quarter 2 of 2014 to a low of 2.35% in June 2015 and left a debt burden of $57bn yet the former ruling party takes delight in boasting that it left behind a booming economy."
BMO reaffirmed that President Buhari had since assuming office done far more than his predecessors even at a time crude oil price fell to a record low.
"As the President said  this government has had to struggle to pay debts which were not tied to any verifiable projects, invest in road repairs and rebuilding as well as revamping the rail network and provide power by entering into government-to-government agreements without a need for middle-men.
Send Us A Press Statement Advertise With Us Contact Us