APC's Rivals Sponsored Owerri Attacks – Uzodimma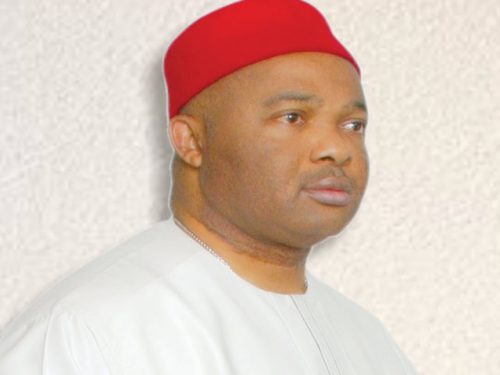 Governor Hope Uzodimma has drawn back on his Monday claim that the Easter Monday attacks on Owerri was sponsored by the Indigenous People of Biafra, IPOB, with his new assertion on Wednesday that the mayhem was sponsored by political enemies of the All Progressives Congress, APC government. The claim that APC's rivals sponsored the Owerri attacks is also contrary to the claim by the police which had blamed IPOB for the attack.
Speaking in an interview on Tuesday, the governor said that political patrons determined to destabilise the ruling APC government in Imo State sponsored the attacks to achieve their aim.
The governor, however, did not make mention of anyone of his political rivals or critics as being responsible.
Governor Uzodimma's assertion flies in the face of his earlier claims that the IPOB was responsible for the mayhem.
Speaking to newsmen on Monday after a tour of the two institutions in the company of Chiefs of other security agencies like the Army, DSS, Civil Defence, the Police, and the Correctional Services Centre, Governor Uzodimma said the attacks were both cowardly and politically motivated.
Uzodimma said the primary intendment of the IPOB members who he said carried out the attack was to create fears in the minds of the people and at the same time strive to secure the release of their fellow criminals in custody.
APC's Rivals Sponsored Owerri Attacks – Uzodimma
However, on Wednesday, the governor gave a different narrative saying that APC's rivals masterminded the Owerri attacks.
The governor spoke in an interview on Channels Television.
"What is important for Nigerians to know is the plot by a group of aggrieved politicians to destabilise the government of APC (All Progressives Congress).
"I have done some thorough investigation and I have some credible lead as to those who are sponsoring these activities of these hoodlums.
"I don't want to pre-empt the investigations of other security agencies but I can tell you we are working hard to ensure the sponsors of this dastardly acts must be brought to book."
Send Us A Press Statement Advertise With Us Contact Us