Questions Over Intimate Video Of 'Nnamdi Kanu And Brazilian Woman'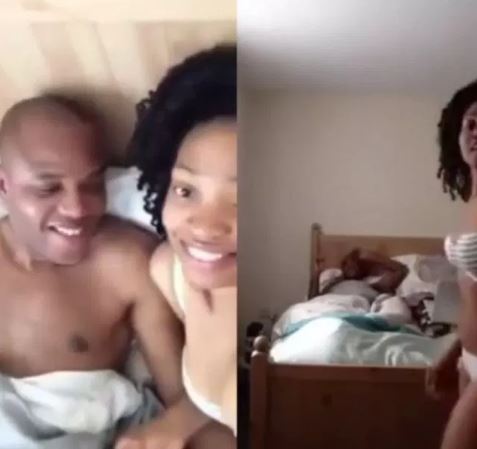 A video has emerged on social media of Nnamdi Kanu, leader of the Indigenous People of Biafra, IPOB with a Brazilian woman allegedly used to lure him to Africa.
However, the authenticity of the video has been put in doubt following observations that the man alleged to be Kanu locked in an intimate session with the supposedly Brazilian lady is clean-shaven, unlike Kanu who is known to have a beard and wore such in his appearance at the court session on Tuesday following his extradition to the country.
The audio is also not very clear.
There are suggestions that the video may be a plot to break the support for the IPOB leader and portray him as a debauched leader.
Nnamdi Kanu is married to a Uchechi Okwu Kanu who has been passionate in her support for her husband's cause in the struggle for Biafra.
The suggestion of a doctored video of Nnamdi Kanu with a Brazilian woman would immediately break the backbone of his support from his wife and also throw questions as to his moral judgments.
 GreenWhiteGreen GWG is unable to confirm the authenticity of the video but the video comes against the background of other suggestions that Nnamdi Kanu was lured to Ethiopia for a meeting to receive financial support for the struggle for Biafra. How the Brazilian woman would have come in to make such an arrangement is also an issue for other sceptics of the video that is now going on online.
Send Us A Press Statement Advertise With Us Contact Us