Thank You President Obasanjo For Choosing Atiku As Running Mate
By Isaiah Osifo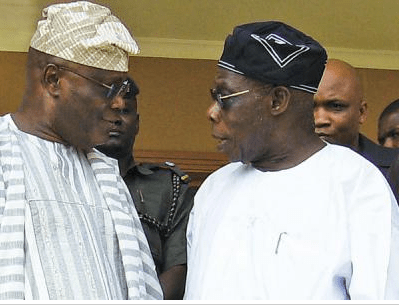 Your Excellency,
Gen. Olusegun Obasanjo, GCFR,
Former President of Nigeria.
Appreciation of your Personality and your Choice of Atiku Abubakar as your Running- Mate and  Vice-President of Nigeria.
Dear Sir,
Your Excellency, I write this letter to you with all sincerity and humility to express my profound appreciation of your person and to thank you for nominating his Excellency, Atiku Abubakar as your Running Mate in your two Presidential contest that you won as President and Atiku Abubakar as Vice- President of Nigeria.
I have several reasons to appreciate you and l will mention few in this letter. It is a universal fact that there is no perfection in humanity. I have read and listened to the efforts of your critics to undermine your contribution to the advancement of Democracy and sustainable development in Nigeria.
Despite the criticism, some with facts and many others out of ignorance, the documented works of Students and Researchers in  Political Behaviour and Development Administration are kind to your personality and appreciative of your developmental efforts in Nigeria and Africa continent .
Your Excellency, you are a gifted scholar. I have had the opportunity to discuss with you on several occasions and l know your high intelligence and great mind. As a student in the department of Political Science and as a University Lecturer, l have it on record that you are the only former President of Nigeria who is an author of a book that is recommended for students and researchers in the department of Political Science.
Nobody can dispute your scholarship and contributions to political literature.
Your grasp of International Relations is fascinating. While many African leaders were still running a restrictive and archaic authoritarian regimes, you were already conscious of the dynamics of Globalization and investing on Humanitarian Intervention in Africa continent.
Olusegun Obasanjo is the first military Head of State to voluntarily and peacefully hand over to a democratically elected president of Nigeria. Your era as a Military of Head State in conjunction with your Second in Command, late Gen. Musa Yar' Adua witnessed a benevolent military administration and promoted visible unity among Nigerians.
You are a passionate believer in the unity of Nigeria and Nigerians know this and l commend you for this principle. Your optimism in the unity of Nigeria is similar to the commitment of Atiku Abubakar to the unity of Nigeria.
The benefits of the unity of Nigeria are well known and Nigerians are anxiously desirous of a president that will unite the country. Atiku Abubakar's records in promoting the unity of Nigeria are far ahead of all the presidential candidates for the 2023 presidential election.
The PDP was conscious of this and it informed one of the strong reasons for the election of Atiku Abubakar as the Presidential candidate of the PDP for the 2023 election.
Your Excellency, your contributions towards the efforts for a viable and stable Democracy in Nigeria are well known. Again, you are the first elected president of Nigeria to ensure a peaceful transfer of political power from one elected president to another democratically elected president.
Your choice of Atiku Abubakar as your Running – mate and elected Vice- President of Nigeria was a very good choice. Your tenure as the elected President of Nigeria, in conjunction with his Excellency ,Atiku Abubakar as the Vice- President of Nigeria witnessed tremendous development and still remain the best in Nigeria since the inauguration of democratic governance in 1999.
You are a strong promoter of an effective Local Government System, Local Government Autonomy and Development from below.
Atiku Abubakar is always loud in telling everybody that he is the product of an effective Local Government System. Under your administration, Atiku Abubakar inaugurated the Association of Local Governments of Nigeria, (ALGON).
Part of the challenges of the security problems in Nigeria today is as a result of the neglect and the destruction of the Local Government System by successive federal and majority of States government after your tenure in office. Effective Local Government System is a major requirement for surveillance and effective security in all countries.
Reasonable government in developed or developing nations rely on the Local Government for national security. Atiku Abubakar is a sure candidate that will revive the dead Local Government System in Nigeria and promote sincere policy that ensure national security.
Nigerians are aware of the unity in the country during your tenure. The exchange rate at that time compared to the present situation is shocking. The security of lives and property, employment and income generation for the citizens are similarly shocking.
It is important to note that you recruited the best brains from all geo- political zones in Nigeria and at the end of your tenure Nigeria was debt free.
This letter is not meant to narrate your achievements as a democratically elected President of Nigeria, but to appreciate you, note the striking similarity in your person and policy with Atiku Abubakar and to acknowledge your right choice of Atiku Abubakar as your Running-Mate.
Sir, in a Presidential system of government the credit from the achievements of a tenure in office is shared with the Vice- President and members of your cabinet.
Atiku Abubakar was your Running – Mate for the two elections and Vice- President of Nigeria in your eight years as the President of Nigeria. He cannot be excluded, morally and legally from the sterling performance of your administration. Nigerians want a President that will emulate you, build on your foundation and surpass your achievements.
Atiku Abubakar has the records and the most qualified Presidential candidate that can achieve this aspiration of Nigerians for a rescue mission and a better Nigeria.
Your Excellency, you are an incurable optimist for the unity of Nigeria and a dogged fighter for the National Interest of Nigeria.
It is my appeal to you, God granting you good health and strength despite your age to step forward and support Atiku Abubakar in his determination to rescue Nigeria from the mess and return the good governance of your time in office.
This is a crucial time for the unity of Nigeria and our national interest to supersede all personal considerations for the sake of the survival of Democracy and development in Nigeria.
Atiku Abubakar role in the struggle for Democracy in Nigeria, his contribution to the formation of the only surviving national Political Party, PDP, since 1998, the Party that elected you as it's Presidential candidate, his character on the unity of Nigeria, achievements along side with you as Vice- President of Nigeria, political philosophy on re-structuring, etc, are clear evidence of his scholarly personality, Liberal democratic credentials and capacity for good governance .
All great minds and majority of reasonable Nigerians will always commend you and l appreciate your personality and philosophy .
Yours faithfully ,
Dr. Isaiah Osifo.
Former Chief of Staff to former Governor Osareheimen Osunbor of Edo State
Dated June 28, 2022
Send Us A Press Statement Advertise With Us Contact Us
Send  Us A Press Statement  Advertise With Us  Contact Us
 For Nigerian News Visit GWG.NG