Okorocha Accuses Ihedioha Of Impersonation, Forgery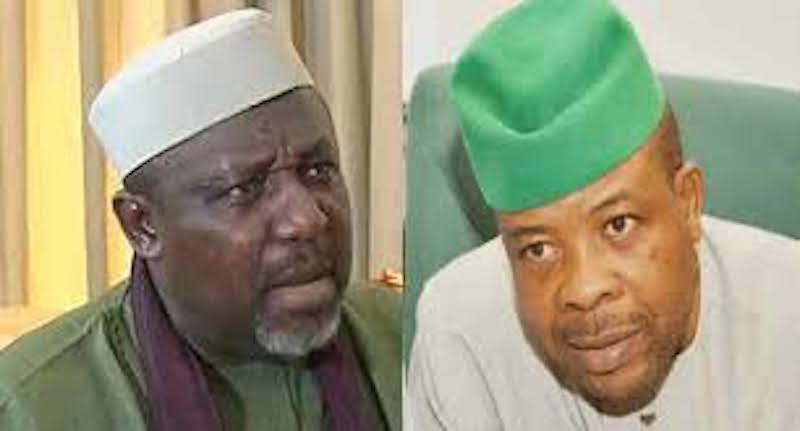 Media aide of Senator Rochas Okorocha, Sam Onwuemeodo has accused media aides of Governor Emeka Ihedioha of impersonating him in issuing a press statement to congratulate their boss over the recent tribunal judgment won by the Imo State governor.
Mr. Onwuemeodo in a statement issued on Sunday alleged that two press statements were issued in his name on behalf of the Action Alliance governorship candidate, Uche Nwosu and Senator Okorocha by the media aides of the governor.
Giving details of the alleged forgery, he said:
"Governor Emeka Ihedioha's media aides had issued two Press Releases, having the two referenced Captions on Saturday, September 21, 2019 after the Judgement of the governorship Election Petition Tribunal for the State. And they had written my name (Sam Onwuemeodo) as the author and signatory to the two press releases, they had forged.
"They had written that of Ugwumba Uche Nwosu first. Perhaps, when they realized that I had never been Nwosu's media aide or the Publicity Secretary of his party, Action Alliance (AA), they decided to come up with that of Senator Rochas Okorocha, without withdrawing the one they did for Nwosu. And the two Captions could rightly be adjudged the summaries of all that they wrote.
"And I make hay to state that I never issued any press release or press releases with regard to the outcome of the Judgement of the governorship Election Petition Tribunal, either for Senator Okorocha or for Ugwumba Nwosu.
"To the media aides of Governor Ihedioha, faking two press releases and attributing them to me was their own idea of media packaging or at best, their own understanding of what media aides should do in the circumstance. That's their own understanding of ethics or rules of engagement as media aides.
"Of course, the expectation should not have been more than what these guys did especially when a governor assembled some elements whose only experience before their appointments was insulting people on WhatsApp or Facebook, as media aides. That's what qualified them. And they are doing it to the best of their Jaundiced abilities. No one gives what he or she does not have.
"It may be important to remind them that since the creation of Imo in 1976, Military administrators who governed with decrees and edicts and Civilian governors who had governed with the Constitution and bills, would not be less than fifteen, with the Military administrators constituting nine, out of the fifteen. Yet, Imo State didn't evaporate or went into extinction. Therefore, one does not see the likelihood or the possibility of the State being eclipsed now because Chief Emeka Ihedioha is the governor. There should be civility or decency in their actions and inactions.
"Senator Okorocha would not have had any reason to congratulate Governor Ihedioha or Ugwumba Nwosu having any reason to concede defeat to him, knowing that the Judgement in question grossly fell short of the expectations of majority of Imo people, both at home and in diaspora. And the media aides had forged those press releases to divert attention and to create false impression about the whole enterprise.
"Faking or forging Press Releases in my name was the height of callousness or madness on the part of Governor Ihedioha's media handlers. It's unimaginable that the media team of a governor could be nasty to that extent. It irritates. Very disgusting, nauseating and primitive.
"And what they intended to achieve with all that, is yet to be understood. Managing a Chief Executive at any level requires or demands personal discipline. Character is key. You don't engage in actions expected from touts or hooligans or thugs.
"In sum, the general public should ignore the two Press Releases with the Captions above. They never emanated from me. The fake releases have also shown the direction this government will be going. And that will be very unfortunate."