Wike Opens Up On Odili's Problems, Why He Is Hated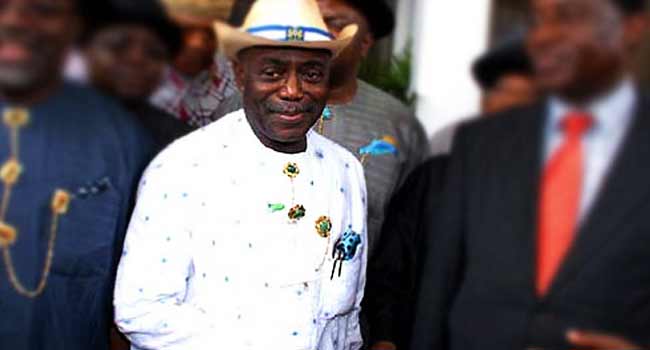 Governor Nyesom Wike has praised former Governor Peter Odili of Rivers State pointing him out as the one who groomed the present generation of political leaders in the state.
Speaking on Friday when he commissioned the dualized and reconstructed Birabi Street, Elegbam-Rumueme in Obio/Akpor Local Government Area, the governor observed that Dr. Odili's problems as a politician started when he insisted that he must handover power to an Ikwere person.
"Dr Peter Odili is the person who brought all of us up. No political leader can claim that he is what he is today without Odili .
"Odili laid the foundation. But for him, Ikwerre man would not be Governor of Rivers State. Ikwerre people owe him a lot. It was difficult in this state for any Ikwerre man to be Governor. He took the risk for an Ikwerre man to be Governor .
"I know the hatred people have on him because he said an Ikwerre man must be Governor. We shall continue to stand with him. Any Ikwerre man who is anywhere without recognising Odili will not know peace. Any Ikwerre man plotting against you and your family will never have peace."
Governor Wike said the many fights Odili is having today is because he insisted that an Ikwerre man should be Governor. He urged the Former Rivers State Governor not to regret facilitating the emergence of an Ikwerre Governor in the state.
Odili served as governor of Rivers State between 1999 and 2007 during which time he was the preeminent political personality in the state having squashed rivals. He had taken a leading position in the Peoples Democratic Party, PDP presidential race having reportedly tidied deals with many northern delegates until the chairman of the Economic and Financial Crimes Commission, EFCC chairman Mallam Nuhu Ribadu and a handful of others leading actors in the Olusegun Obasanjo administration moved against him.
He has not recovered his political standing since then, a fact that was compounded by the emergence of his former aide, Rotimi Amaechi as governor in October 2007.
Amaechi was able to build a band of followership that remarkably also at one point included Wike.