Has Jonathan Lost Out In Bayelsa?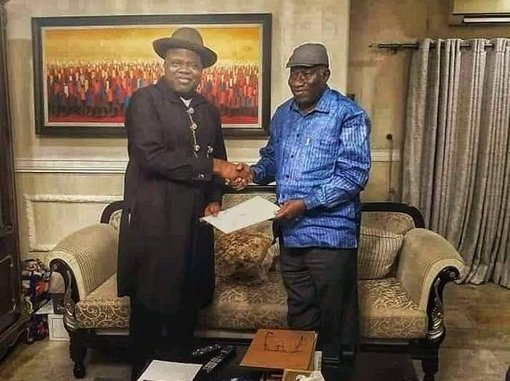 By Emmanuel Aziken
Governor Douye Diri has presented his certificate of return to Dr. Goodluck Jonathan putting aside misgivings on both sides ahead of the turbulent succession programme.
President Jonathan has also on his part congratulated Senator Diri on his inauguration as the governor of Bayelsa State.
President Jonathan's congratulatory message to the new governor came against the background of the schism in the Peoples Democratic Party, PDP ahead of the governorship primaries when Jonathan and several state and national figures backed Timi Alaibe.
Though Diri served under Jonathan as a commissioner, the former president was, however, said to have preferred Mr. Alaibe who also reportedly had the backing of Dr. Olusegun Obasanjo and a former National Security Adviser.
Despite meeting with Jonathan on at least 15 times to agree on the issue, the former governor of the state, Seriake Dickson did not have any breakthrough and the former governor stuck to his guns on Diri.
The fracture led to Jonathan not congratulating Diri on his emergence as PDP candidate or appearing in the campaign field to stump for him.
Even more there were allegations that Mrs. Patience Jonathan, a long-known political foe of Dickson's actively backed the All Progressives Congress, APC candidate, David Lyon to the extent of providing her hotel in Yenagoa, Aridolf Hotel for the APC campaign.
Hours after Lyon was declared as the winner of the election, the APC national campaign team visited the Jonathans and the couple was visibly happy during the visit.
However, Jonathan remains a very popular figure in the state irrespective of the perceived fracture in the relationship with Dickson.
It is significant that immediately after he was inaugurated that Governor Diri drove to President Jonathan's residence and presented his certificate of return to him.
Jonathan in calling for unity said:
I congratulate His Excellency, Senator Douye Diri who was sworn in today as the 5th Civilian Governor of Bayelsa State, in compliance with the Supreme court verdict of yesterday, 13th February 2020.
As Governor, the responsibility of building hope and sustaining peace across the State now lies on your shoulders. I urge you to always bear in mind that you are the Governor of all Bayelsans and to seize this moment of glory to build bridges of unity by entrenching a culture of love, fairness and justice in our polity.
Your journey to Creek Haven is a divine one, so I advise you to use the position to do good to humanity and pursue the development of the State in order to write your name in gold. You have worked with me before as a commissioner, so I am without doubt that you will live up to the expectations of our people.
I call on all Bayelsans to be law-abiding, peaceful and embrace this transition in all sincerity, and work together towards a united and prosperous State.
Congratulations Your Excellency.
GEJ
Send Us A Press Statement Advertise With Us Contact Us