Ronaldinho @ 40: Player With 23 Goals In A Match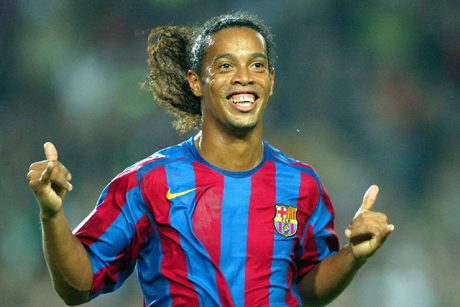 By Ekene Dike
Football will never forget the glamour Gaucho Ronaldinho brought to the beautiful game. He was an incredible dribbler, playmaker, goal scorer, and sensational talent.
He also played football with a smile that enchanted even opponents. Playing for Barcelona in an El Clasico, he won the reputation of receiving applause from the rival Real Madrid stands two different times he put the ball into the opponent's goal!
Ronaldo de Assis Moreira popularly known as Ronaldinho Gaúcho was the cynosure of all eyes at the young age of 13 when he scored all the 23 goals for his team in a 23-0 victory over a local team. That performance sparked up opinions that he was a soccer phenomenon in the making.
Born on March 21, 1980 at Porto Alegre in Brazil he was an emblem of "Samba" style of football. A style of football which was popular amongst Brazilian footballers and he garnished his own with excellent dribbling ability and made his opponents look like kids.
A recipient of many coveted awards and laurels, he was a great footballer and generational talent. His professional career kicked off at Gremio in Brazil, before he made the big move to Barcelona in 2003 where his career flourished.
The Catalan Giants will never forget his enormous impact in the club as he mesmerized the whole of La Liga.
One of his remarkable moments at the club, was when he received a standing ovation from Real Madrid fans at the Santiago Bernabeu after scoring two delightful goals in the El Clasico.
One of his remarkable moments at the club, was when he received a standing ovation from Real Madrid fans at the Santiago Bernabeu after scoring two delightful goals in the El Clasico.
During his stay at the Camp Nou, he clinched the UEFA Champions League trophy in 2006 wearing the iconic number 10 jersey which is now worn by Lionel Messi.
However, due to the fact that he had a penchant for taking up challenges, he went to Ac Milan to continue his club career football where he continued to show off his incredible skills.
He later played for clubs like Flamengo and Atletico Miniero in his country Brazil.
Querèteto in Mexico came calling and he played for them and went back to Brazil in 2015 to play for Fluminense.
Ronaldinho enjoyed playing for his country Brazil as he helped them win the FIFA World Cup in 2002. He was one of the standout performers of the tournament as he formed a perilous attacking trio alongside Ronaldo and Rivaldo. The playmaker scored a wonderful free-kick against England in the Quarterfinals to send Brazil to the last four of the competition.
He also inspired his country as they won the FIFA Confederations cup in 2005 before a disappointing World Cup campaign in 2006 saw Brazil get eliminated in the Quarterfinals by France.
It was a horrendous tournament for Ronaldinho who had just one assist in the whole of the competition. Despite reaching the Quarterfinals, the fans in Brazil felt that the team were below par and they angrily destroyed Ronaldinho's statue in Brazil.
Ronaldinho had endorsement deals with leading companies like Nike, Pepsi, Coca-Cola and EA Sports.
He also won the FIFA Ballon d'or award, as well as two FIFA Player Of The Year Award. Personal glory was easy to come by for him as he was also named in the FIFA World Cup All-star team in 2002 and was listed in the FIFA 100 best players composed by one of football's greatest players Pele.
Following a recent controversy around Ronaldinho's entry into Paraguay with a fake passport, he has been jailed in Paraguay and is expected to spend 6 months.
That, however, has not deterred the Brazilian football legend from enjoying football over there and he scored 5 goals and provided 6 assists in a match organized in the Paraguayan prison.