Taribo West @ 46: From Playing Field To Pulpit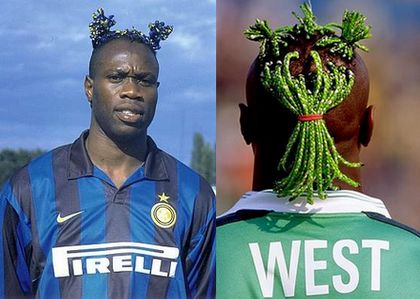 By Ekene Dike
Before the likes of Paul Pogba and Neymar Jr began to dazzle the football world with flashy hairstyles, Nigeria's Taribo West had set a pattern with loud hairstyles on football fields.
During his playing days, he used to be the cynosure of all eyes not only for his haircuts. Also his doggedness and effectiveness while operating as a defender for the Super Eagles of Nigeria and his other club sides were things that were admired about him.
Taribo started his football career at Obanta United in Nigeria. He also played for other clubs in Nigeria like Sharks, Enugu Rangers and Julius Berger. Having played for those clubs from 1989 to 1992, he forged ahead to European clubs.
His first taste of European football came at Auxerre in France where he won major trophies. He also played for Italian powerhouses, AC Milan and Inter Milan. The likes of Derby County, FC Kaiserslautern, Partizan Belgrade, Al-Arabi, Plymouth Argyle and Paykan also acquired him to play for them.
While plying his trade at Inter Milan, he played alongside one Brazil's greatest footballers Delima Ronaldo. They went on to clinch the UEFA Cup in the 1997/98 season.
Furthermore, his international career was characterized by huge milestones. He was a member of the historic Olympic Dream Team that won the football gold medal in Atlanta in 1996.
At the African Cup of Nations in 2000, he played a pivotal role as Nigeria finished second behind eventual winners Cameroon.
He went on to make 42 appearances for the Super Eagles of Nigeria between 1994-2005 and featured in two FIFA World Cups with two African Cup Of Nations.
After his retirement, he repented from his fetish ways during his playing days and became a devoted Christian. He also became a pastor and founded a Church in 2014 which is located in Lagos.
Born on 26th March 1974 Taribo West has undoubtedly had an eventful life on the pitch and now off the pitch as he has heeded a pastoral calling.
On the occasion of his 46th birthday, the King of colorful haircuts and agility as a footballer deserves massive recognition.