Can Buhari Retire Tinubu From APC?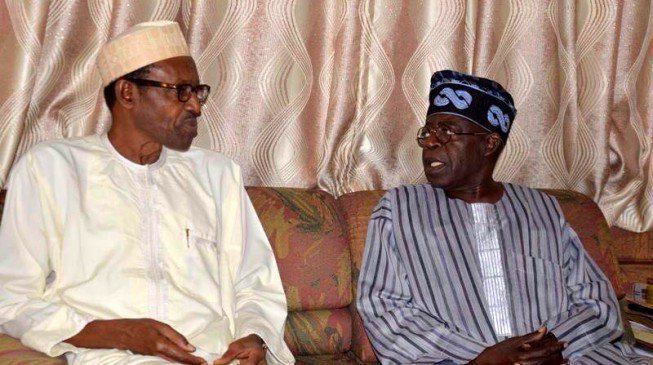 By GWG Staff
The Thursday morning meeting of the National Executive Committee, NEC meeting of the All Progressives Congress, APC is set to redirect the politics of the party, nay the country.
The most prominent casualty from the development would be the national leader of the party, Asiwaju Bola Tinubu. He would not be at the meeting neither will his proxy.
Though not a member of NEC, he had since the formation of the party always determined and projected the chairman of NEC, nay, the chairman of the party. Chief Bisi Akande, the interim chairman of the party in formation was his ally.
The first substantive chairman of the party, Chief John Odigie-Oyegun was his man and likewise his successor, Comrade Adams Oshiomhole.
For the first time, the acting national chairman who will preside at the Thursday NEC meeting, Chief Victor Giadom is coming from the opposite side of the party.
He is an associate of Rotimi Amaechi and by extension, of Governors Nasir El-Rufai and Kayode Fayemi, governors who had in the recent past stoutly stood against what has been described as the 'Conclave Politics' represented by the national leader.
Sources reveal that the Thursday NEC meeting would lead to the constitution of a Caretaker Committee which would be headed by Giadom. The caretaker is expected to be in place for two to four months and is expected to elect a new national executive at a National Convention of the party.
It could not be confirmed if Tinubu has been consulted on the composition of the proposed caretaker committee. If he has not, and does not have his men in any significant position in the proposed caretaker committee, that would inevitably lead to him and Buhari parting ways after their great collaboration led to the decimation of the once invincible Peoples Democratic Party, PDP.
Chief Femi Fani-Kayode, a critic of the APC alluded as much on Wednesday following Buhari's recognition of the Giadom led faction when he penned on his facebook page that Buhari has retired Tinubu from politics.
Writing on his Facebook page on Wednesday, Fani-Kayode said:
"First, Oshiomhole was kicked out by the Court of Appeal. Then his preferred replacement, Abiola Ajimobi, falls into a coma. Then his archrival, Giadom is recognised by Buhari as acting national chairman.
"Conclusion: It is over for Tinubu. He has been thrown under the bus and retired from politics."
The national leader will surely not be sleeping and after investing much political capital into the APC will surely be planning his own response.