Top Experts To Speak At Africa Education Parley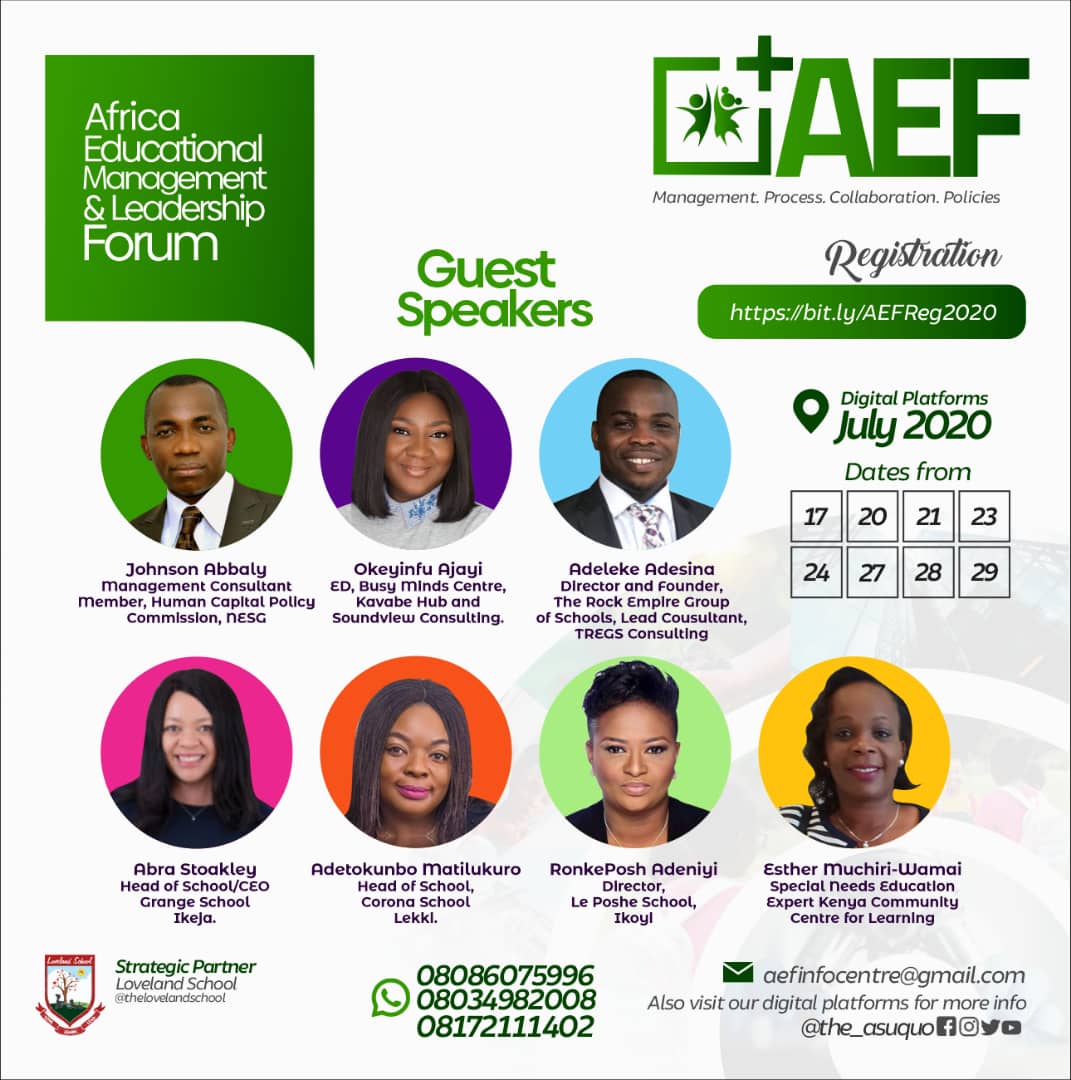 Some of the leading education experts in Africa are expected to converge albeit remotely at the Africa Educational Management and Leadership Forum in the third week of July.
It is a conference expected to bring together some of the best minds in and outside the education space both in and outside Africa to discuss possible solutions to leapfrogging the educational system in the continent, the orgainsers said in a statement.
Top education experts expected to speak at the forum include Dr. Aderemi Oladele, Senior Research Officer, Permanent Delegation of Nigeria to United Nations Educational, Scientific and Cultural Organization, UNESCO and Founder and Lead Analyst, 3psmars International who will be delivering the Keynote Address from Paris, France; Ms. Abra Stoakley, Head of School/CEO, Grange School, Lagos; Mrs. Adetokunbo Matilukuro, Head of School, Corona School Lekki; Mrs. Okeyinfu Ajayi, ED, Busy Mind Centre and Soundview Consulting.
Other notable speakers include Ms. RonkePosh Adeniyi, Director, Le Poshe School, Ikoyi; Mrs. Esther Muchiri-Wamai, Special Needs Education Expert, Kenya Community Learning Centre; Mr. Johnson Abbaly, President, Achievers Consortium International and Founder, Successor Generation Community; Mr. Adeleke Adesina, Director, The Rock Empire Group of Schools.
The Africa Educational Management and Leadership Forum, an initiative of The Asuquo, a leading Education and Children Development Hub in Africa, is convened in partnership with Loveland School, Lekki, Lagos.
Panelists at the Forum are Ify Obidi-Essien, Founder, The Tech Savvy Teacher International, CEO, Edulead Concept; Hilda Adamatie – Head Teacher/Co-Director, Spring Lake School, Lekki, Co-Founder, Cool Teachers Nigeria; Gospel Obele, R &D Economist and Founder, Streetnomics and Omozino Eguh, Behavioural Scientist and Founder Yudimy.
"AEF is borne out of our desire to see educators fully equipped to perform their important role as shapers of destinies and builders of the next generations.
We understand that Management and Leadership are core competencies needed to drive advancement in any sector, hence we have made these two critical elements our chief focal points for the conference starting July 17, 2020 across digital platforms", Emmanuel Asuquo, the conference Convener noted.
The Forum has on it's large focus area the vision of Inventing the Tomorrow of Education through efficient Management skills and Processes; engineered by Collaboration and globally focus and relevant Policies; to ensure the creation of meaningful knowledge exchange and collaborations.