PDP Members Accuse Ondo Dep Gov Of Bribery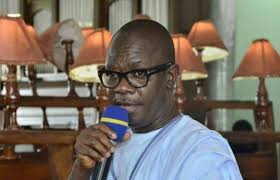 By GWG Staff
The embattled deputy governor of Ondo State despite the relief from the judiciary was, however, facing another battle in the Peoples Democratic Party, PDP after party members came out to protest claims that his agents were infiltrating the delegates list to change them to his favour.
The party's primary is due on July 22 and the deputy governor only recently defected from the All Progressives Congress, APC.
Some members of the party staged a protest at the Heritage Hotel, Alagbaka Akure where the PDP ad-hoc committee has made its headquarters.
The protesters were alleged to have accused the deputy governor of trying to cut corners by bribing members of the PDP ad-hoc committee to doctor the list of delegates for the election.
Their suspicion GWG gathered following the sighting of a top associate of the deputy governor at the Heritage Hotel.
Mr. Ajayi's spokesman, however, denied the allegations against the deputy governor as he told The Punch:
"The deputy governor is not a desperate politician, he is a lawyer and knows the rules of the game, the allegation of the protesters is nothing but falsehood against the person of the deputy governor. I can tell you it is not true."