Magu's 'Pastor' Prophesied His Confirmation As EFCC Boss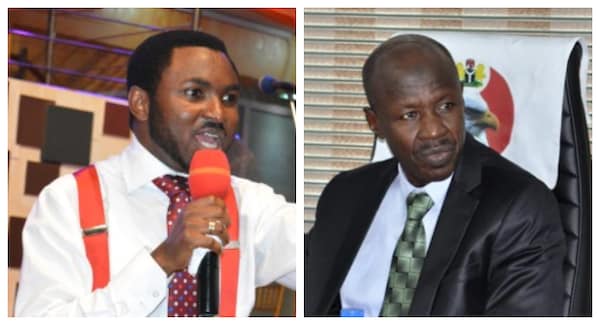 Prophet Emmanuel Omale who was allegedly used by Mr. Ibrahim Magu to launder money last December predicted that the embattled anti-graft czar would be confirmed as the Chairman of the Economic and Financial Crimes Commission, EFCC.
Omale, who is the general overseer of the Divine Hand of God Prophetic Ministries, an Abuja based 'church' had in his prophecies of future events in 2020 predicted that Magu would be confirmed by President Muhammadu Buhari for the good work he was doing in fighting graft.
While lauding Magu's anti-corruption war had said that "His war on corruption will jail two ex-governors who are currently serving as Senators.
"President Buhari has seen the great success of his war on corruption under Ibrahim Magu and he will submit his name for re-appointment and confirmation in spite of massive gang up.
"I see President Buhari and Magu making a good name for Nigeria on the fight against corruption.
It has now been revealed that among the good works done in the eyes of the Abuja pastor was the purchase of property in his name by Magu.
He is alleged to have bought a landed property on behalf of Magu worth N573 million in Dubai, United Arab Emirate.
According to a report by the panel, "He's reported to have travelled to Dubai with Mr Magu, and his name was used in purchasing a property in Dubai for Mr Magu.
"As an unknown pastor, the NFIU's report showed the huge movement of funds ranging from N573,228,040.41," the report said.
The Presidential Probe Panel has alleged that he was used by Magu to launder money abroad.
Magu is currently being interrogated by the panel headed by retired Justice Ayo Salami over allegations of lack of transparency in managing recovered assets and mismanagement of EFCC.
Meanwhile, the Bible talks of prophets whose prophecies do not come to pass. Deuteronomy 18:22 says:
If the prophet speaks in the LORD's name but his prediction does not happen or come true, you will know that the LORD did not give that message. That prophet has spoken without my authority and need not be feared.