PDP Mocks Odubu Over Botched NDDC Job
Chides Ize-Iyamu Over Relocation Of NYSC Camp From Abudu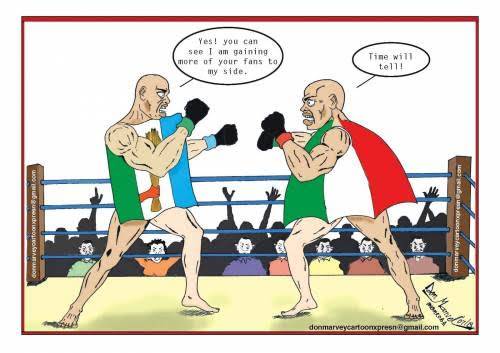 The Peoples Democratic Party (PDP) in Edo State has called on Dr. Pius Odubu, former deputy governor of the state to explain to Edo people why he is yet to be inaugurated as the Chairman of Board of the Niger Delta Development Commission (NDDC), months after securing Presidential approval.
Chairman of Edo PDP Campaign Council, Chief Dan Orbih, who threw the challenge during the PDP governorship campaign rally in Aibiokunla Ward 1, Orhionmwon Local Government Area of the state, urged eligible voters in the state to vote the PDP to enable the governor continue with his administration's people-centric policies and programmes.
Orbih accused the former deputy governor of sponsoring vile press criticism against Governor Godwin Obaseki, clarifying that the PDP candidate for the September 19, 2020 is not liable for his simmering ordeal.
According to Orbih, "I read in the papers a few days ago and I heard the former deputy governor of the state lamenting that he is not Chairman of NDDC because of the Governor, Mr. Godwin Obaseki.
"He (Odubu) should go and find out what his problem is. For eight years, he worked with Adams Oshiomhole and we didn't see his impact in that government."
The Edo State PDP campaign council chair also lambasted the candidate of the All Progressives Congress (APC) for allegedly approving the relocation of the National Youths Service Corps (NYSC) Orientation Camp from Abudu in Orhionmwon Local Government Area to Okada, headquarters of Ovia North East Local Government Area of Edo State.
In a veiled reference to Ize-Iyamu's undoing to his kinsmen during his tenure as SSG, Orbih said, "Ask him why was NYSC Camp relocated from here? He is your son; ask him why he relocated the Camp. I will reply him if he speaks."
On his part, Obaseki assured that his administration will embark on more people-centric projects and programmes in the area, when reelected, blaming the All Progressives Congress (APC) candidate, Osagie Ize-Iyamu, for underdevelopment in the local government.
Obaseki said: "Our leaders had set up a teachers' training school here because they wanted Edo State to move forward. But some people removed the teachers' training school saying that they wanted to use it as camp for the NYSC scheme. But after some time, they removed the camp and the person contesting as governor with me (Ize-Iyamu) was the person who signed the paper.
"The removal of the NYSC camp from Abudu was what brought Abudu down all these years. As governor, I am concerned about the development of all our communities, which is why I brought back the college of education to Abudu, making sure it is more than just a college of education.  I requested for a special school from President Muhammadu Buhari, where our teachers can be further trained to impact positively on our children.