Was Atiku Right? Nigerians Ask As FG Plans Sale Of Refineries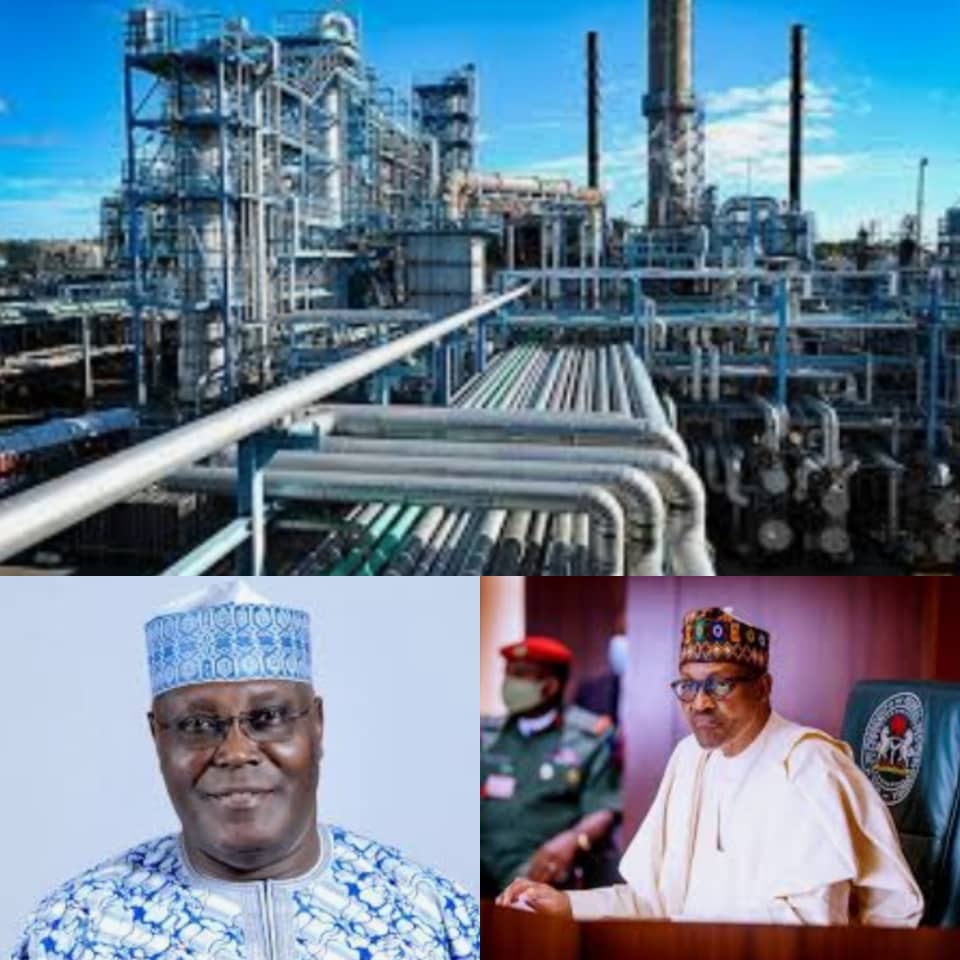 By Emmanuel Adigwe
The Federal Government's plans to sell the country's four refineries to investors has raised a stormy debate on social media over the original opposition of the All Progressives Congress, APC to the idea that was canvassed by 2019 presidential candidate of the Peoples Democratic Party, PDP, Atiku Abubakar.
GWG recalls that Atiku during his campaign in the 2019 presidential election had pledged to sell the NNPC and its subsidiaries to private investors but chieftains of the APC had criticized his idea saying the former vice president intended selling the national assets to his friends.
However, the same idea has been laid down by the Group Managing Director of the Nigerian National Petroleum Corporation (NNPC), Mele Kyari.
In an interview with Channels TV, the NNPC GMD had stated that the government intends to be a minority shareholder as private investors will operate and manage the refineries. 
Mele Kyari said: "It means there will be more scrutiny of shareholders and also becoming more efficient to operate. That conversation is on the table."
This development has sparked up reactions on social media as Nigerians took to the micro-blogging platform to express their views.
Here's what some had to say:
Femi@0gbeni wrote: "They wanted to kill @atiku for saying this that year."
Henry Osehimolen@Henrymolen wrote: "Really, does this means Atiku's friends are better off managing the refineries than Government?"
Kamala Obama@Ambrosia_Ijebu wrote: "But by Buhari's friends not Atiku's friends."
Fames@eronsjohnson wrote: "I really believe now Atiku was the best option, we just didn't see it on time."
Adetola A. Kehinde (IGBOMINA)@Optimistic_Ade wrote: "Alhaji Atiku Abubakar should just stick to tweeting his usual "condolence", "rejection" and football tweets. He should leave economy tweets to renowned economists."
Grace John@onyiforlife wrote: "Lie Mohammed is the worst thing that ever happened to Nigerians. Apc keeps lying, looting, deceiving Nigeria over 4yrs."
Captain @Ardarm_boss wrote: "@atiku come and sell Nigeria 2023 … we are tired of this confused old man."
The TIME Is NOW@abumchetachi wrote: "If you are cursing the people that supported @MBuhari in 2015 & 2019 but you are supporting @atiku for 2023 then you are more foolish than the ones that supported @MBuhari."
Olóyè.@oloye__ wrote: "Atiku wAnTs tO sElL oUr NnPc. Dear the owners of NNPC, how market?"
Bankole Akintunde Adebayo@AdeBanqie wrote: "When we told y'all Atiku's 2015 manifesto and campaign document were all garbage and lacked substance, you guys didn't believe. It is even obvious he didn't understand what was packaged for him and clearly uploaded to his website. Atikulated Fraud."
Send Us A Press Statement Advertise With Us Contact Us