Nigerians React To Uchemba Discarding Palm Wine Offered At Traditional Marriage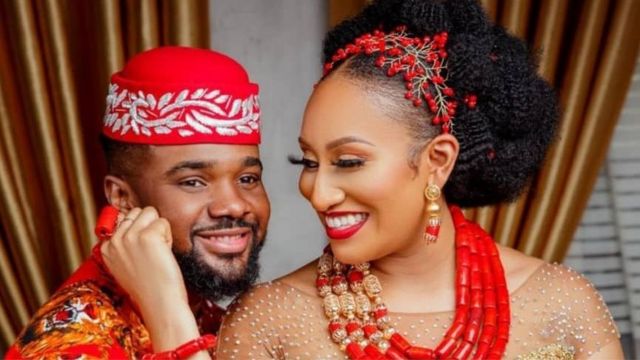 By Emmanuel Adigwe
The traditional wedding of Nollywood actor, Williams Uchemba, may have ended but the controversy it is generating is yet to settle.
GWG recalls that the movie star married his wife, Brunella Oscar, in Alor, her village in Anambra State.
As part of Igbo tradition, the bride presents the groom with a cup of palm wine which he drinks to show acceptance of the bride. However, in a video that emerged online, Uchemba was seen throwing the drink presented to him by his bride away.
This has sparked reactions on social media as some netizens who are familiar with the tradition took to their accounts to berate the actor for his actions. Also, some understood the reason behind his action as they stated that the actor was only trying to be cautious.
GWG captures some of their thoughts below:
Ugochi Osisiogu-Nwoji wrote: "This is a very common occurrence. People do it for several reasons. Maybe he doesn't drink palm wine. Maybe he already discussed with his in-laws. He just happens to be a celebrity, so as usual, people will talk. But the truth is, this is not new. Times have changed. Evil is on the increase. Some people don't even eat in their own weddings."
Chukwuemeka Nkuma wrote: "He just desecrated IGBO culture; telling the world that our land is full of evil. I don't blame him anyways #amandianaeze. If I were the one, based on my personality, I would ask that this part of the marriage be done inside with just the in-laws; then, we would come out for the ceremony."
Anthony Ezeoke wrote: "Very, very unacceptable. If it were to be my family, he would have to do a second traditional marriage and he will pay heavily to appease the land."
Jc Hula wrote: "Lol, this drink comes directly from the father of the girl, and he poured it away right in front of the girl. It simply says he doesn't trust both the girl and her father. Even if he planned it with the girl, this incidence cannot be erased from her memory.
Onyinyechi Kemdirim Nobis wrote: "The girl is meant to sip it first before giving him, but did she? NO!"
Maryclaret Chibuzo Obah wrote: "Because he did this in the open right? Many people do that but secretly, you never can tell what happens in such a busy place.#amandianaeze. There is no repercussions jor. He is married and that is it. They should free him."
Obiageri Mirian Ochiama wrote: "The dude is only being careful with his life, but there is a smart way to go about it. Guyman would have brought it closer to his mouth as if he wants to take a sip, but wouldn't sip it and then pour it away."
Victor Nnadi wrote: "Rather he should have given the drink to his father or his uncle to drink. Is very wrong, he doesn't know the implication of what he has done."
Doreen-Truelove Ugwu wrote: "well, He accepted the drink from her and that's what matters, what he does with it afterwards is his business. The world is full of evil, one needs wisdom and God's grace to scale through life!"
Symba Obinna Methodius wrote: "It goes to show how long the marriage will last. The marriage is disposable. The gods will never be happy with the guy and the marriage."