More Confusion Over Iwuanyanwu In Imo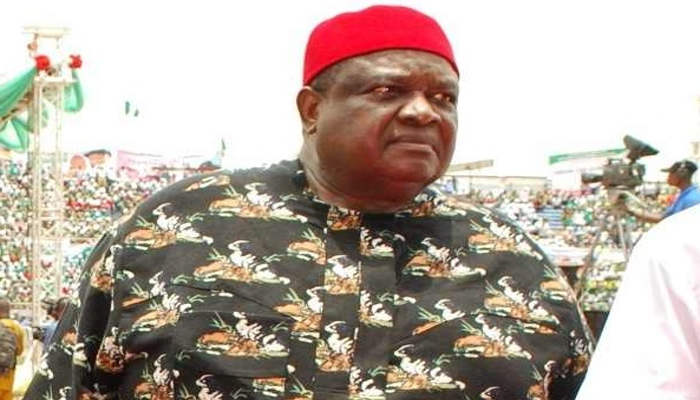 There is increasing confusion over billionaire politician, Chief Emmanuel Iwunanyanwu arising from his open support for a second term for Governor Hope Uzodinma of Imo State.
It has again brought to light the question of the political fidelity of the Imo born politician and business magnate who has reportedly supported the immediate past governors of the state against his own Peoples Democratic Party, PDP.
The agitation is also coming against the background of deep agitation and confusion over Iwuanyanwu especially among the grassroots in the PDP in Imo.
Iwuanayanwu is a member of the Board of Trustees of the PDP and also regarded as a party leader in the Southeast zone.
Party leaders in Imo State, however, fume that he has regularly worked against the party's interests in the zone even before the advent of the Uzodinma regime.
Noting the confusion over Iwyanyanwu, he said:
"During Okorocha's time you will see Iwuanyanwu seated in the front seat just after Okorocha would have abused PDP and he would say nothing," one party operative told GWG.
Confusion Over Iwuanyanwu
Iwunanyanwu had recently taken two controversial positions seemingly alleged to help stabilize Governor Uzodinma.
He was the head of a team of Imo elders who sat with Governor Uzodinma to unanimously endorse Prof. George Obiozor as the state's consensus choice to become the president-general of Ohanaeze Ndigbo.
The endorsement of Prof. Obiozor came with the package that it was the decision of Imo elders. However, that endorsement was soon derailed after Ohanaeze chieftains alleged that the constitution of the apex Igbo socio-cultural organization does not give room for consensus nomination. The election for president-general must be contested by at least three persons according to the constitution of the body
It was following that controversial decision that Iwuanyanwu also proclaimed a second term for Uzodinma despite the agitation of his people in Owerri Zone that they governorship position should be ceded to them.
Responding to Iwuanyanwu's endorsement of Uzodinma, the PDP Owerri zone in a statement issued by the Zonal PDP Publicity Secretary, Kizzito Onuoha, said, "It is unfortunate and quite embarrassing that Chief Iwuanyanwu who should have been at the very forefront of the call for strict adherence to the Imo charter of equity and total balancing in the context of Imo political tripod, could allow himself to be used as an instrument of sabotage to his people of Owerri zone."
GWG has learnt that a recent memo circulated among PDP ward chairmen in Imo State for the expulsion of Iwuanyanwu from the party was stepped down after a former official of the Emeka Ihedioha government stepped in.