Amaechi's Men Vow More Robust Challenge To Wike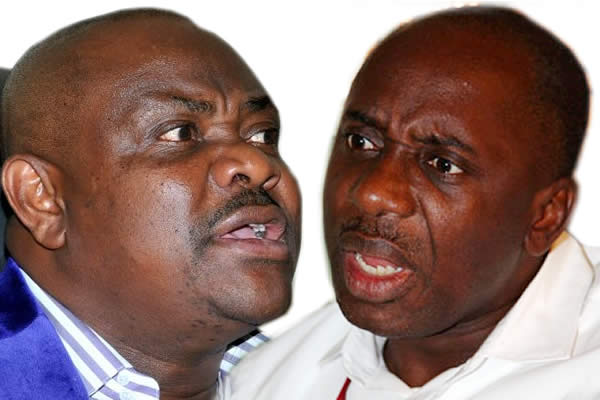 Associates of Chibuke Amaechi in the Rivers State chapter of the APC have vowed to put aside their past distractions and properly quiz the Nyesom Wike PDP administration in the state.
They made the vow of a more robust challenge of Wike at a press briefing in Port-Harcourt where they also commended the Court of Appeal's judgement affirming the powers of the APC's National Working Committee (NWC) to appoint a caretaker committee.
The Chairman of APC Caretaker Committee in Rivers, Mr Isaac Ogbobula, gave the commendation during a news conference at the party's secretariat in Port Harcourt.
GWG reports that the Court of Appeal had on Tuesday given judgement that the NWC of APC has the power to appoint a Caretaker Committee.
"We commend the Justices of the Court of Appeal for the judgement delivered on Tuesday, particularly in restoring sanity in the party.
"More significantly, sending a clear message to the lower courts to desist from unnecessarily meddling in the internal affairs of political parties, and to stop usurping the constitutionally vested powers and functions of party organs.
"So, we call on genuine members of the APC in Rivers to join hands with the duly recognised caretaker committee in moving the party forward," he said.
More Robust Challenge Of Wike
"We must start to seriously interrogate the policies, programmes and activities of the State Governor and invariably the application of State resources. Rivers people must be made to consciously resist a situation where one man runs the show in the State; in charge of supplies, contracts, projects etc while others wallow in penury and poverty.
"It is unacceptable that more than six years as Rivers State Governor, His Excellency, Nyesom Wike cannot point to ten (10) young men of Rivers origin who have been economically empowered to compete in the business world.
"It is most unfortunate that rather than the Governor priding himself in terms of human capital development, he is instead always boasting of how he will cripple the All Progressives Congress in the State and you can imagine the humongous funds he pushes in that direction to massage his ego."
The caretaker committee chairman said the party was not unmindful of alleged moves to use state institutions, especially judicial officers to procure injunctions against the APC in the state and derail the more robust challenge of Wike and his government.
He said the Rivers chapter of the APC would not be used to lend credence to any charade in the name of local government election.
"We can predict that either they will file an anticipatory suit or a post-Court of Appeal judgement suit with a view to stopping the caretaker committee from performing its functions.
"But we promise that, henceforth, it will not be business as usual," he said.