Uzodinma: One Year After, If Only The Truth Is Told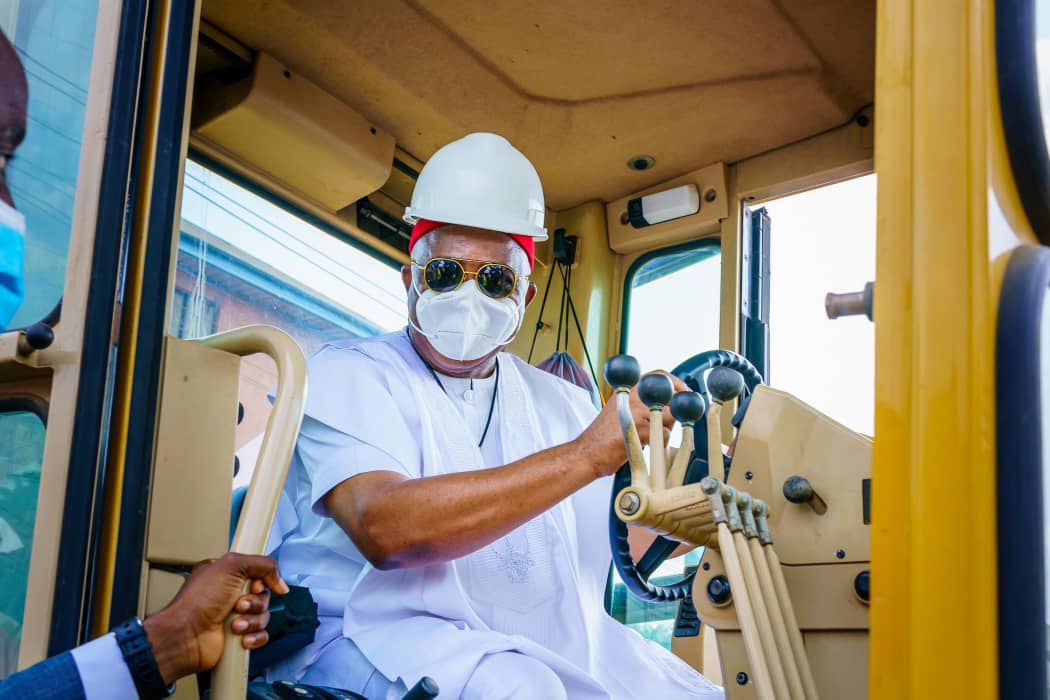 By Nwamkpa Modestus (KSM)
I was initially reluctant to pen down a piece of this nature with regard to one year anniversary of the current Shared Prosperity government.
I had wanted to do a proper analysis of Governor Uzodimma, maybe next year when he would have clocked two years in power, at least being half journey of the current mandate.
The truth is that ordinarily, one year is not enough time to accurately diagnose any government. But on a second thought, I felt that given the unusual circumstance occasioned by the COVID-19 pandemic that broke out immediately the Governor assumed power that resulted in the nose-diving of the economy of the nation and states  and its concomitant lockdown, the ENDSARS imbroglio,  the total collapse of Infrastructure in Imo state as a result of eight years of misrule.
Also considered was the non transfer of hand over note by the immediate past administration to Governor Uzodimma  and of course, so many other legal distractions, I felt within me that attempting a synopsis of the one year outing of Governor Hope Uzodimma this time   may be worthwhile after all.
Sincerely speaking, I think Governor Uzodimma deserves a pat on his back within this one year for bracing up the odds and raising his heads above the sea waters in the midst of challenges both man-made and natural occurrences.
For me, the past one year has been quite eventful, impactful and actually a period of renaissance. In my humble estimation, it is a period of repositioning of the state, a period of tightening the loose nuts and changing the worn out tyres so that Imo state can move on again.
Unfortunately, Imo state is gradually returning from a long journey of confusion, debasement of the psych of the people especially the youths where credence was sacrificed on the alter of mediocrity, where substandard way of doing project by government was almost like a government policy and where corruption, nepotism, arbitrary converting of government properties and land to family members,  relatives, aides and close associates of the Governor was a norm.
The state was coming from the downward street where there was fear of government bullying, infighting among leaders and total confusion everywhere.
This was a state that Governor Uzodimma met on ground on January 15. He immediately tasted the debt of the deep River with his two legs and as a good swimmer, he swam, floated ashore and today, there are visible and verifiable achievements to his credit, such that can only be denied by those who see from their nose.
In the areas of Works, Governor Uzodimma has attacked the menace of flooding in the state by constructing a deep Tunnel measuring over 50ft at Chukwuma Nwoha in search of a permanent remedy to the menace of perennial flooding where all the flood water during raining season will be channelled in addition to opening up of blocked manholes across the state.
Additionally, terribly and years of abandoned roads like Chukwuma Nwoha, MCC road, Dick Tiger, Federal Secretariat road, Aladinmma ring road, Port Harcour road, Relief Market Road, Okwudo Awomma road, World bank etc are either fully constructed or undergoing construction currently.
Perhaps, the biggest achievement in the area of road construction was the recent award of Okigwe/Owerri and Orlu/Owerri roads which are two federal roads in the state at the cost of N55B to a German Construction film Crenburg. It is, however, instructive to say that the Governor awarded these federal roads in a most transparent manner and the Governor openly informed Imo people that he has paid 15% of the contract sum in line with the Procurement Act, the first of such where a sitting Governor would bring Imo people up to speed as to how much was paid to any Contractor and which Company is doing any road in Imo state.
Again, the Governor upon assumption of office discovered monumental corruption in the civil service system in particular and immediately rolled up his sleeves to tackle it head on without minding the expected backlash because as they say, corruption must always fight back any time you fight it.
This resulted in the introduction of Automation system in the area of payment of Salaries and Pension to the extent that the old method of analogue payment system that serves as a conduit pipe for corruption was eliminated.
So far, over 90% Imo Workers and Pensioner have been captured in this net. And soon, those yet to be captured because of various problems will be settled.
On Youth Empowerment and employment, this is one area that Governor Uzodimma did not hide his interest upon assumption of office. He created the first ever Ministry of Entrepreneurship and Skill Acquisition with the sole aim of coordinating his planned several Youth empowerment schemes and incentives.
So far, the Governor has expended huge sums of money on this direction in the areas of Youth training and empowerment.
I make bold to say that no Governor in the history of Imo state that can compete with Governor Uzodimma on the area of social welfare scheme because as a person, he is known to be very generous and compassionate and coming to government, it is only natural that he will continue in this trajectory.
In Education, Health, Infrastructural development, Agriculture, Commerce among others, Governor Uzodimma has used this short period of one year to stamp his foot on the sands of these areas and I am sure that soon the heads of these sectors will further come up with the achievements of the Governor in these areas.
This is an incontrovertible fact that Imo state is back on the track of development.
Overall, I will say that Governor Uzodimma has not done badly in this one year in spite of the daunting challenges that ordinarily should have made any government to move at a snail speed. But for Governor Uzodimma, he is like a Rubber band whose strength is only known when stretched.
No matter what the opposition would say because of their political leaning, Governor Uzodimma has actually redefined governance, shown leadership capacity, repositioned the state for development and ultimately done marvelously well.
That is not to say that all is well in Imo state. Not at all. There are several unattended issues begging for attention. There are several bad roads yet to be fixed but in sincerity, these were only inherited by the current Governor. It can only get better as what the Governors needs is encouragement and support.
Don't forget that we are still Apostles the sacred Altar of Truth. We always stand on the pedestal of Truth. We profess it undiluted and it is only the same Truth that will continue to set us free.