Edo PDP Not Fighting Obaseki – Spokesman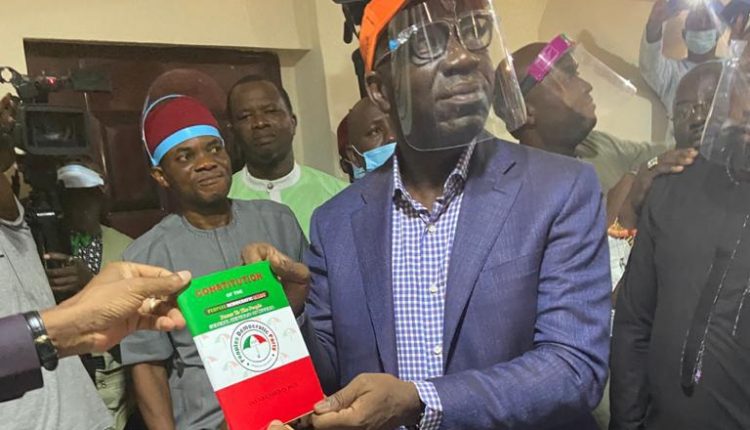 The Edo State chapter of the Peoples Democratic Party, PDP has rebuffed claims of a crisis between party leaders and Governor Godwin Obaseki leading to a spike in the COVID-19 pandemic in the state. The PDP said it was not fighting Obaseki.
GWG reports that the All Progressives Congress, APC caretaker chairman, Col. Dave Imuse, rtd. had alleged infighting between the governor and the party leaders leading to a paralysis in the affairs of the government leading to the spike in COVID-19 pandemic in the state.
Rebuffing the claim in a statement made available to GWG, PDP State Publicity Secretary in Edo State said:
"In the latest display of their ignorance, APC through its care-taker wannabe state chairman in an attempt to impress his paymaster and puppeteer in Iyamoh, rambled some sentences that betrayed his political naivety, gluttonous tendencies and jaundiced view of political happenings in Edo State Government and our party.
Insisting that the PDP was not fighting Obaseki, he said:
"Col Imuse has conveniently forgotten or is he feigning ignorance that Governor Obaseki left APC because the leadership had no other agenda but to loot the state treasury.
"The narrative for why they did not want to allow him run a second term is because he blocked their access to state resources and Governor Godwin Obaseki's insistence on using state resources to develop and build infrastructure for Edo people and not stomach infrastructure for APC leaders and cabal.
Edo PDP Not Fighting Obaseki – Party Insists
"Edo people have not forgotten how APC power mongers refused to accept the comprehensive defeat at the polls and are running from pillar to post to try and upturn the people's mandate! Even though the courts have even declared that they didn't have candidates in the last elections, they have refused to give up on their futile pursuit because of their desperation.
"Isn't it absurd and laughable that a party that it's members refused to be proclaimed at the State House of Assembly because they lost out in the power struggle to produce the speaker will have the audacity to call PDP a party of self-centered politicians.?
"It is clear that APC and Col Imuse are full of bitterness, resentment and cynicism. Their Jaundice cannot be cured and that's why even if Governor Obaseki turns water into wine, APC and Imuse's prejudice will still manifest.
"They will continue to feel the heat as the security challenge Edo experienced as a result of the #EndSars prison break is now under control after the rejigging of the state's security architecture. They tried to compromise it, and as usual, Edo people triumphed.
"They will continue to feel the heat as we deliver on good governance!"