Delta APC War: Why Ogboru Ordered Ceasefire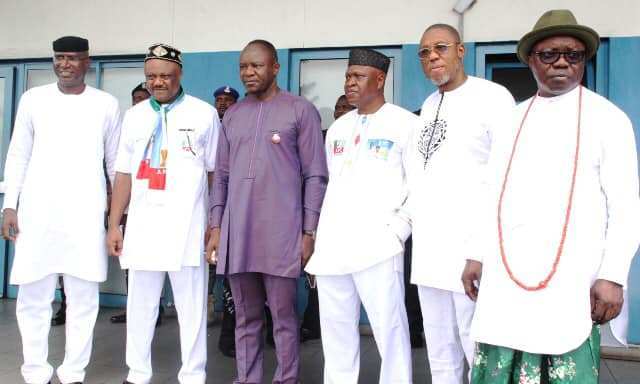 Great Ogboru has called for a ceasefire between his supporters on one side and those of his estranged political partners, Senator Ovie Omo Agege and Prophet Jones Erue on the other. Ogboru once famed in the opposition in Delta as the Peoples General ordered for the ceasefire in what has been termed as the Delta APC war.
Speaking against the background of alleged discord at the Wednesday stakeholders' meeting of the party in Asaba in which he was accused of fueling.
Ogboru was absent at the stakeholders meeting that had Omo-Agege and Erue as among the major stakeholders present.
Since then there had been verbal and media war between the two camps with the Ogboru camp alleging a discord following what was claimed as the poor selection of stakeholders for the meeting.
The Omo-Agege/Erue camp has, however, disputed the claim alleging a cordial meeting.
GWG reports that both camps have also been engaged in media war with exchanges in the print and social media.
Ogboru had earlier petitioned the national leadership alleging that Erue and his cohorts had sidelined some state and Local Government Area executives and had upon his misgivings pledged not to attend last Wednesday's stakeholders' meeting.
Responding to the Delta APC war, on Monday, in a message issued by his media aide Tony Omolu, he said:
"In the spirit of the earlier request by the People's General to ensue peace and order, especially now, that the Party is carrying out this very important assignment for a new direction of participatory democracy, Great Ogboru urges all and sundry not to respond, good, bad or indifferent to all those campaigns of calumny against his person.
"After all we are all one party members and Deltans. We know who we are and don't need anyone to tell us about who, and what Ogboru stands for.To this end, kindly ignore those things capable of futher exacerbating disunity and factionalisation of our great Party.
"Let's go all out to mobilize for APC, and ensure that at the end of the day, the vision of our President to allow the people determine their leadership will  prevail. Remain ever faithful and run the APC race. As a party, with cooperation, understanding and unity, we shall get to our destination."